Testimonials
---
Dear Gentlemen, here we are happy to represent you the Testimonials of the customers who have found their soulmates with the help of the Marriage Making Agency. Here they express their opinion, experience and suggestions for those who are looking for a second half in another country and appreciation to the company and the staff.
---
I can tell you that I did not fall in love with the girl, but I did fall in love with the city of Simferopol
I, Peter Marra, have just returned from a trip to the Ukraine and the wonderful city of Simferopol. I went there with much anticipation about meeting a special girl whom I had been writing to for four months. I was the first American to visit your Simferopol branch. I can tell you that I did not fall in love with the girl, but I did fall in love with the city of Simferopol, and Alex and Olga.
Alex and Olga are your branch managers in Simferopol, and they truly went above and beyond all of my expectations. We had dinner together in the evenings and I truly felt like I was with family.
My Suitcase was lost in Kiev; I think the suitcase ended up in India. Alex was good enough to lend me a coat until the next day and even offered me clothes since I did not have any. I was amazed! Who else would do something like this? Alex and his wife called me every day while I was there and made sure I had everything I needed. They were always just a phone call away. Even at the agency I felt like it was my own. They took the time to show me around the city and filled me in on many great sites.
I don't know what you are paying Alex and Olga, but they definitely deserve a raise! When my dreams of my girl went down the tubes, they were there for me. After all, you can put two people together but you can't force love. They definitely did their job. They put us together, but nothing evolved except my love for the city of Simferopol and for Alex and Olga.
In closing, I want you to know that I hope to plan another trip with C.C. and Simferopol. Alex and Olga are definitely on my itinerary!
Peter Marra /31 Dec 2005
---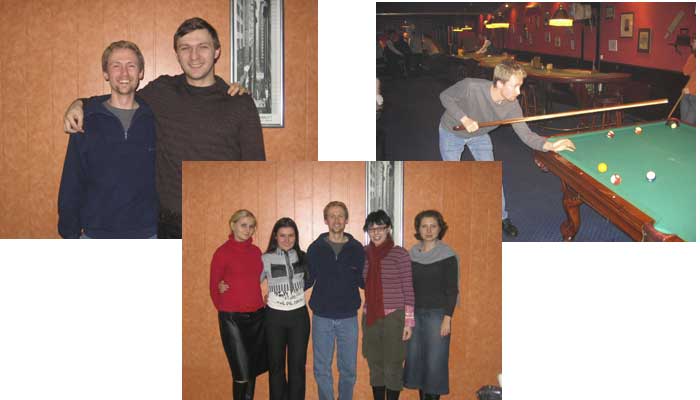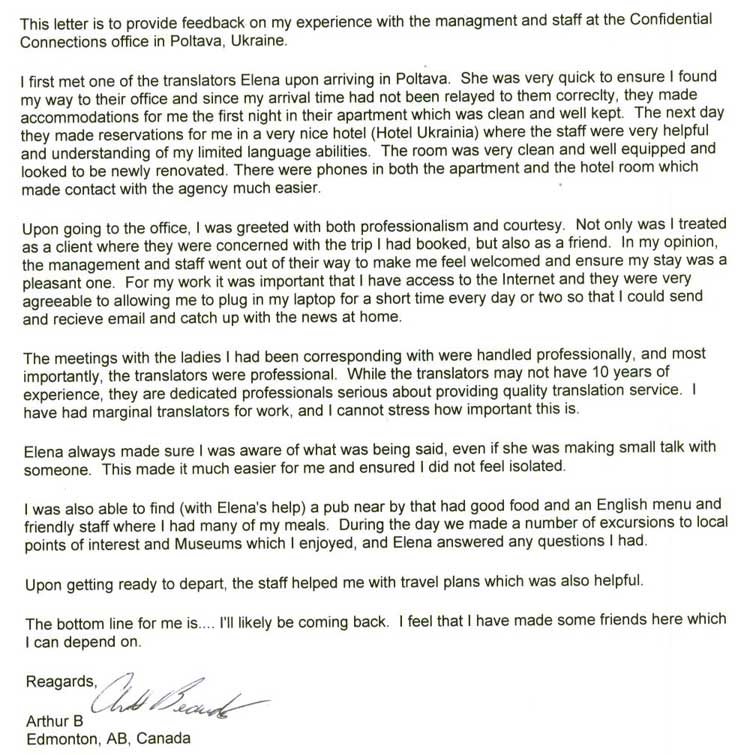 Arthur Beaudette /30 Dec 2005
---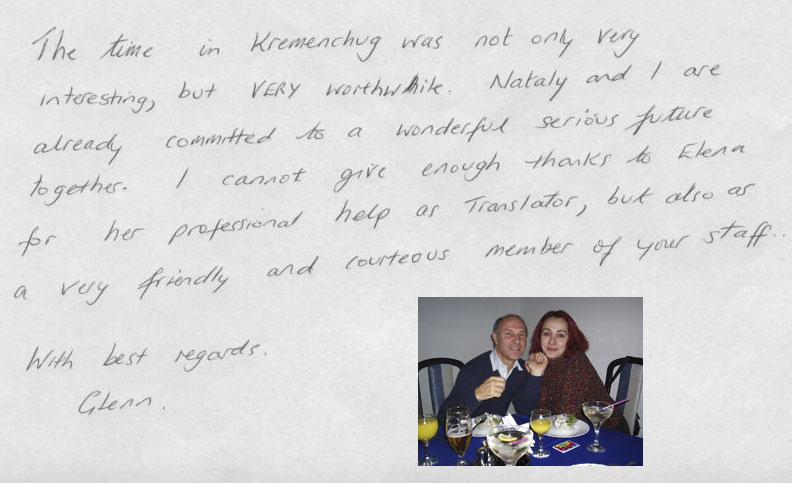 Glenn W /29 Dec 2005
---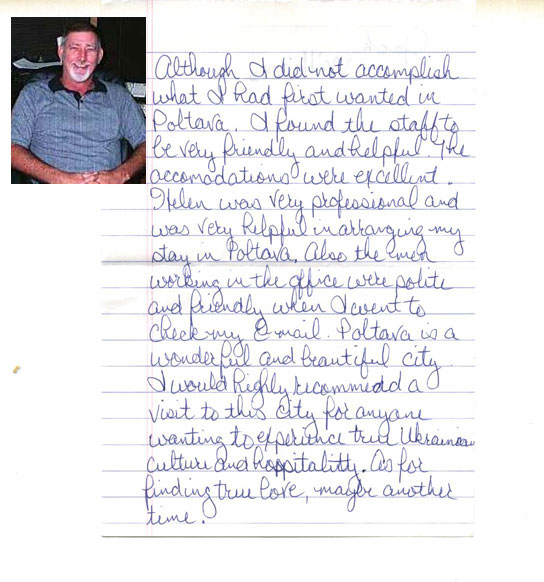 Jack Williams /19 Dec 2005
---
Thank you for helping me meet the girl of my dreams!
Dear Confidential Connections, I would like to thank Yura, Natasha and the rest of the staff in Zhitomir for a great trip and a wonderful experience. The friendly office staff and the hotel staff were exemplary and the food was of the finest cuisine I've ever tasted. Before I went, I was speaking to Steve Salveson who said that I will have a great time. He was absolutely correct!
Your services provided all the support my lady Oksana and I needed to meet and spend time together. I was impressed from the beginning when the driver Igor and our interpreter Oleg waited 3 hours for me because of my delayed flight. They immediately took my luggage and escorted me to the car. They provided great worry free security.
Minutes later, we picked up Oksana before driving to Zhitomir. Even though she was very beautiful on her photos, she was even more beautiful in person. Oksana and I spent almost the next two weeks together. Oksana was an excellent hostess, tour guide, and a magnificent lady. She took very good care of me and she also ordered all my meals at the restaurants. We had many special times together and things went so well between us that I have proposed to her for marriage. I have since met Oksana's wonderful family and we enjoyed our time together as well. Now, Oksana and I are making arrangements for her family to meet my family in February 2006, and then
Oksana is going to give me an answer. I want to thank our interpreter Oleg who was much more than an interpreter. He helped me with all my preparation for the proposal. He was a great advisor of your culture and traditions. He coordinated all the daily arrangements for Oksana and me to meet. Oleg assisted me with shopping, banking, phone calls, and he was even a photographer for Oksana and me. Oksana and I want to thank all of you at Confidential Connections for helping us meet, and for all your support and kindness. You have been a good friend to us. We are very happy and excited about our future together.
Thank you for helping me meet the girl of my dreams!
Best regards
Sam Candeloro/ 19 Dec 2005
---
Thanks for keeping some basic - but extremely important standards
I am a new member here. I have tried some other sites where scamming is usual. Off course it costs a bit of money - but here I have already after few days gotten aquainted with a woman who actually answers my qustions and taken a sincere interest in my person. There is a real dialogue and that is just great.
So thanks for keeping some basic - but extremely important standards !
Your professionalism deserves respect !
Robert Jensen / 14 Dec 2005
---
I am confident I will find my future wife
For six months I have email and phone few ladys from the agency, also getting help from the support office, is been absolutily fantastic, I am now ready to make a visit to Kherson to see some of the ladys I have been in comunication. I am confident I will find my future wife, excelente agency well run business.
Thank you for this happines you brougth to my life.
alberto b.huertas / 10 Dec 2005
---
---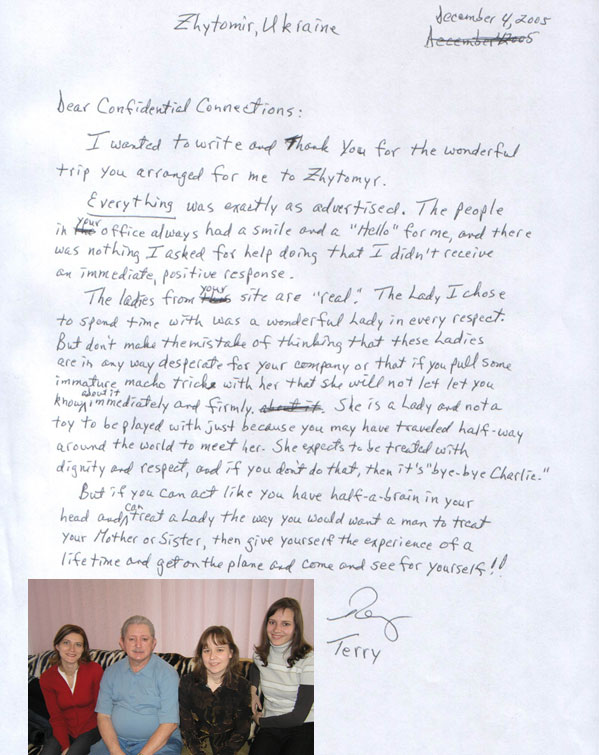 Terry Zachary /04 Dec 2005
---
Latest testimonial:

Now Life is Complete!
I am happy to announce Elena C and my engagement. We made this lifelong committment to spend our lives together on my second trip to Kharkov. I feel CC is an excellent match making agency and it feels like being with good family. Olga has been the key to this match and continues to exceed our expectations in every way. Another successful love story, please include our photo of our best day so far!
Thomas Greaves / 23 Nov 2005
---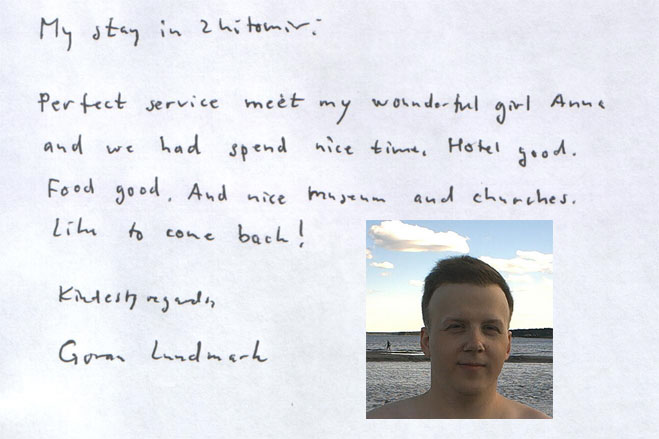 Goeran Lundmark /15 Nov 2005
---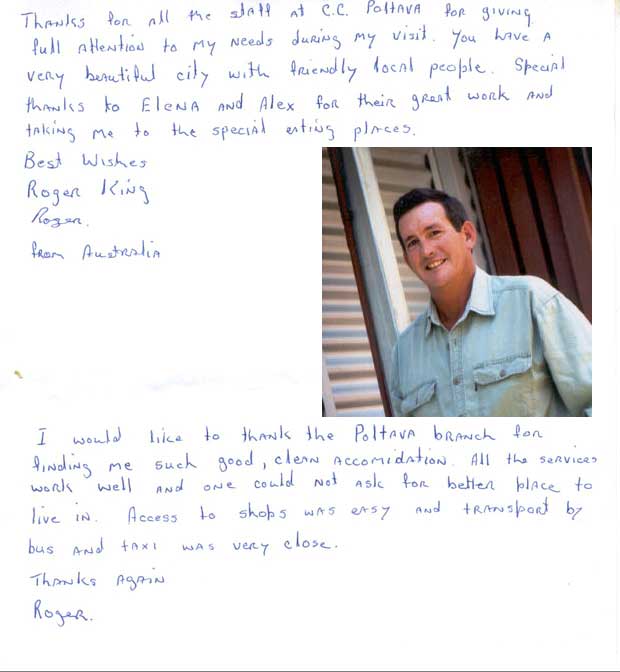 Roger King / 25 Oct 2005
---
"Confidential connections" make dreams come true.
To confidential connections: To Love is to dream and to dream the impossible is a reality with confidential connections. I recently visited the ukrain in the town of Zhytomir. I cant begin to tell you the happiness I feel for the agency there.
The staff made me feel like I was at home , All the girls at the agency truelly care about the happiness of their clients and give all there support in making dreams come true. My dreams came true as I met the most beautifull women , Her name is oksana and on sunday september 4rth I asked her to be my wife , she said yes and my life became complete. We are both very excited about our future and when we visited the agency the next day it was as if we were with family as we announced our engagement.
The staff tried so hard to make all things possible for us , language lessons were invaluable and I realized that when my lady needed a friend to help her the girls were there. we toasted with wine our engagement and we laughed and cried with joy. For the rest of my life when I dream of the most happiest time of my life I will include the family I have at confidential connections. I want to say to everyone follow your heart and follow your dreams for that is where you will find true happiness . What a wonderfull life the agency has provided for me and oksana . "Confidential connections make dreams come true " from my heart I give the agency my love and from me and Oksana we thank you for everything...
Stephen Marsh / 16 Sep 2005
---
Bill Corrigan / 16 Sep 2005
---
I wish a very good success and keep continue on good service.
Hello Ms. Maria,
Thank you so much of you and your staff's help. I enjoyed very much while I was in Kharkov. Ms. Olga was so professionally help me out to arrange for the next movement. Because of her help, we (Goro and Victoria) were engaged. We love each others very much and she starts transaction to move to U.S.A. as soon as her paper work is done. I am coming back to see her in December. Ms Olga knows what to do and where to go for next arrangement and movement. I also had a meeting with Victoria's family and they are very nice families with warm welcomed to me. I wish a very good success and keep continue on good service. I put our picture on my profile so you can post it on your site with this letter.
Again, thank you so much for your good work.
Goro Hamasaki / 14 Sep 2005
---
I can't tell you how much it means to me.
Please send the following message to the staff. Hi Ladies, You made me feel so welcome that it didn't seem like a business at all. I can't tell you how much it means to me.
Thank you for being so sweet!
David DelConte / 02 Sep 2005
---

Gerrit Hendrik / 31 Aug 2005
---
I really thought that this kind of woman did not exsist anymore.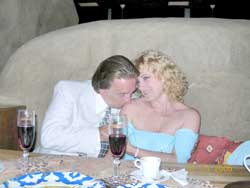 When I was in Kharkov in July 05,My translator introduced me,and my Fiancee,Tanya to you when you were at the Cafe next to the CC office.Our Translator,Olga introduced us to you as one of our couples.Anyway.I used to laugh at the testimonials that I would read from men who would brag about their love that they found on Confidential Connections.
So,I guess the laugh is on me because here I am writing a testimonial about finding my other half,on the other side of the world. I really thought that this kind of woman did not exsist anymore.I was ready to throw the towel in and face reality that my other half was not to be found anywhere on this Planet.I had several bad experiences on other Sites,including Confidential Connections.My last experience devistated me,and I said,thats it,I,m out of here.This is Baloney.Then out of the blue comes this sweet little letter,from this pretty Young Lady.Her letter was different,and I could feel that she was honest and sincere.I answered her letter,and she wrote back.We started writing each other more and more,and after a while,I started to feel that there was something different about her.We wrote many letters,and we spoke on the phone.Then we talked about me coming to see her.
I made the reservations,and the time was set.July 11,2005.Yes,we were nervous,but both of us knew in our hearts that we were about to embark on a lifelong dream to find our true love,and in reality,our other half.On July 11,2005,in the Lobby of the Hotel Kharkov,we met,and the moment we looked into each others eyes,we know instantly that we were about to become whole,for the first time in our lives.We knew that this meeting was inevitable,and was planned long before we ever met.For the next two weeks,we knew that we wanted to be together for the rest of our lives.We made the comment several times that we already felt as if we were already married.I am back in America and I am making the arrangements for a K-1 Fiancee Visa,so that she can join me in America,and we can become Husband and Wife to live happily ever after.How can I send you a picture os us taken during my visit to Kharkov?I can send it as an attachment.
Thank you Steve
Tony Smelgus / 15 Aug 2005
---
Thank YOU for continuing to make CC the best Marriage Agency anywhere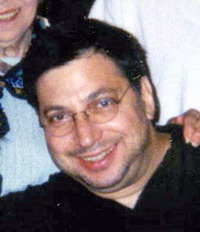 Dear Support Center STAFF: Thank you for your continued excellence and astute diligence in ferriting out the problems inherent in the questions and/or comments made, and for arriving at solutions that in my view are most fair, honest, and honorable.
Thank YOU for continuing to make CC the best Marriage Agency anywhere. Lastly, though exceedingly far from being the least in importance, by any means whatsoever, I continue my pursuit of finding that one beautiful (heart and soul!!!) Ukrainian Lady who is my soulmate, and with whom I will make a complete and thorough life, marriage and family, of course, as mine and my future wife's goal. It is only a matter of time, but, at present, and with the Ladies with whom I am in contact, it seems that that bond may already be beginning to formulate--I sure hope so. Thank YOU Maria, Sergey, Yura and all the others with whom I have not as yet had the pleasure of having made your acquaintance, and working together with.
All the best.
Arden Beyer, Ph.D. / 09 Aug 2005
---
I'm ready to reserve my second trip to Lugansk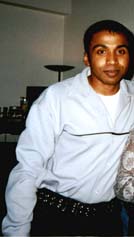 Hello dear Maria,
How are you?
We haven't spoken in a while. I hope you are doing well.
I am forwarding this email to inform you that I'm ready to reserve my second trip to Lugansk. My first trip to Lugansk was just amazingly pleasant. I had a mind blowing experience and I was very impressed with how efficient your agency is. Your agency delivered exactly what was promised if not more. It was a pleasure meeting Julia and Vova at Kharkov airport. I want to thank them both for putting me at ease and driving me to Lugansk. My translator Zhenya in Lugansk office did an excellent job in setting me up with two wonderful ladies. Zhenya was very kind, sincere and she worked diligently in providing me with the translation which enabled me to connect with one of the ladies and her name is Elena. Elena is a sweet heart and I am glad to have her in my life. We have been corresponding with each other and so far things are great between us. When you get a chance, please thank Zhenya for all the help that she provided.
Aron V / 26 Jul 2005
---
A year ago I never would have believed that it could happen to me.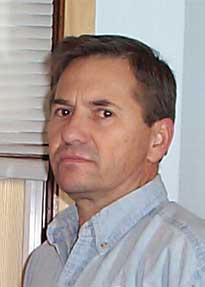 To all the staff of CC, especially the Zhitomir staff, thanks for a job well done. I came back a week ago from my second trip to Ukraine. The weather was great, the country was beautiful, the ladies we remarkable and the staff did a very good job as expected. As I've read before, follow the lead, Get on the plane, see for yourself, the women are beautiful, they are sincere, honest and marriage minded.
We got egaged December 28th, Oksana's visa approval came this week after a long delay and now we are waiting for approval at the embassy in Kiev. By the end of summer we should be together in America and married.
Thanks again, a year ago I never would have believed that it could happen to me. If your thinking about it, don't think any longer, just do it. My princess and I are living proof.
Thanks again.
Dale Weter / 22 Jul 2005
---
I have only one request from you I want to bring Angelina to America and be my wife.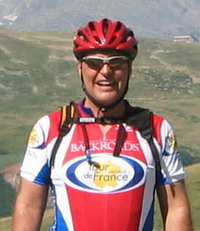 Dear Maria!

Thank you for your help in making my trip to Lugansk such a wonderful time. I first want to tell how wonderful Jane was as my inturpetur. Jane was warm thoughtful caring helpful and always on time she tried to make my trip in Lugansk as fun and insightful as she could. Her help with my meeting Angelina was way beyond what I thought would be the norm.
I feel you have a great partner with Jane and I just can't say in words how good she is and when I return to Lugansk I hope she will be there to help me again. Maria I had such a great time coming to your country I can't stop thinking about my time there.
I really Like Angelina and I thank you for being there when I got off the plane and making my trip more than I hoped it would be. I think you have a wonderful country and I hope your people will keep up the hope to make your home even better. I felt I was taken very good care of and the hotel was fine and again please thank Jane for me She did a wonderful job. I have only one request from you I want to bring Angelina to America and be my wife.
Where do we go from Here?
Have a great weekend and Thanks Again.
Walter Dettman. / 12 Jul 2005
---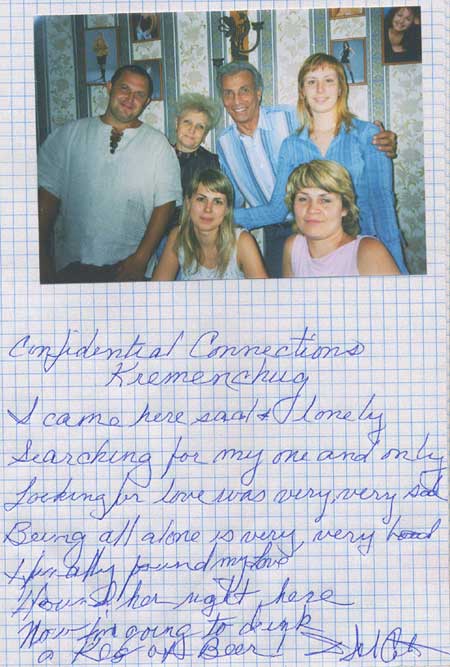 ---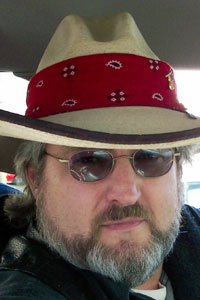 If I had have known about CC from the beginning I would not have lost so much money
Dear staff at CC,
I have been writing ladies from other web-sites and was hooked into a scam by several of the ladies. I found CC by acciedent on day while looking for a web-site to report these scammers. If I had have known about CC from the beginning I would not have lost so much money.
I have found the lady I am communicating with now to be very much the real McCoy. Even when I sent her Pressents she did not wish me to think of her correspondence with me to be for the gifts. We have shared our inner souls even before I am able to come see her in September or October. I will need your special watchful care over me during that time as I am in a wheelchair, and have some extra needs. My Lady knows about my situation and it has not effected our relationship one bit.
You have been good to me so far and I know you will meet my requirements for assistance when I come.
Thank you, Jack Richardson. / 21 Jun 2005
---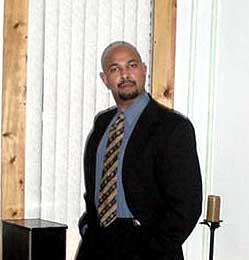 I didn't regret it...I am totally enamoured.
Gentlemen,
What can I really say about the services about CC? My testimonial could never really do any kind of real justice to the most excellent services which this company provides. I had such a wonderful vacation in Lugansk, and believe me, I have traveled quite a lot. I spent a lot of time with Zhenya who made each day that I was there so very enjoyable. She provided me with many hours of translation and worked unselfishly and tirelessly.
My friends tried to talk me out of the trip when I mentioned to them that I was going. Their argument being
1. Ukraine.., what's the matter with American women?
2. Ukraine, do you know how dangerous it is over there..?
3. Ukraine, dude, you could get robber and killed..... are you sure you want to go there?
4. Do you know how cold it is over there? You could freeze to death...
Well, I must say that there must be a rebel in me because I took a running leap and jumped on the plane. I didn't regret it. Ukrainians are like people everywhere else. They live, they work and they have the same dreams as mostly everyone else in the world. I thoroughly enjoyed meeting them. The women were exceptionally beautiful and cultured. I am totally enamoured and very hopeful for the future.
I would like to thank my very good friends from your Lugansk office Zhenya, Seregi and Marina for taking such good care of me. Also, Steven from NY and Maria from Kharkov for making my trip possible. I will be returning to Lugansk real soon and this time I will be bringing the ring. :-)) Seriously, I'm not joking.
Sincerely, Ashton Ramlogan / 11 Apr 2005
---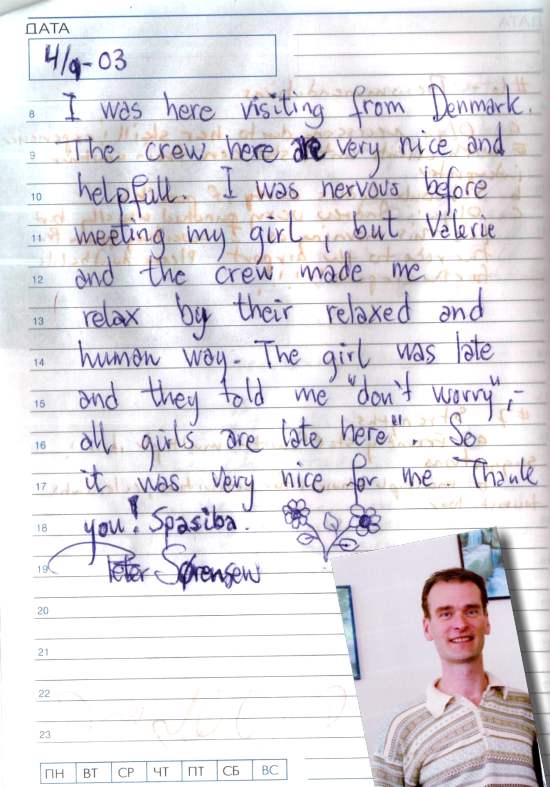 ---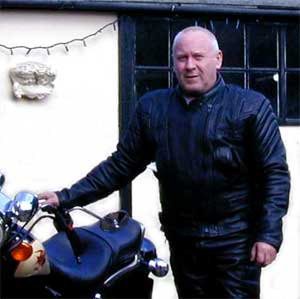 I have been a client of many dating agencies and I can say without any doubt I have found that Confidencial Connections to be far the best.
Dear Steven Salvesen
I am writing to tell you how pleased I was with the people and my trip to Lugansk. First of all let me say that without Maria's help at the Help centre I might not have made the trip.
When I arrived at Lugansk Airport I was a bit apprehensive as to what I was going to face, but my fears soon when I met the two smiling faces of Seregi and Marina. Their welcome was warm and friendly and I was treated like a VIP.
My Hotel and room were excellent considering the difficulty they must have had securing a room on the election weekend. and catered for my dissability. I was very pleased
During my stay I was always ade welcome and with respect from your staff in Lugansk. I was made to feel like I was still at home.
I have the highest of praise for your staff Seregi, Yulya and Zhenya. They were always there when I needed help and even when I did not just to make sure I was ok.
I always was made to feel like a friend rather than a client. I must thank confidential connections for making everything possible for me to met my wonderful lady Galina.So if it was not for the staff at Confidencial connection in Lugansk I would not be as happy as I am now.
Any problems that may have accured were quickly solve by either Seregi Yulya or Zhenya.
I have been a client of many dating agencies and I can say without any doubt I have found that Confidencial Connections to be far the best. Your people in Lugansk are very honest and friendly.
To sum up my experience. Confidentiom Connections would always be mentioned with my highest recommendation, as I have spent 3 wonderful and happay weeks in Lugansk.
Lastly I would like to praise Seregi Yulya and Zhenya for they helpful and poffession help.
Yours sincerely, Derek R Watch / 29 Mar 2005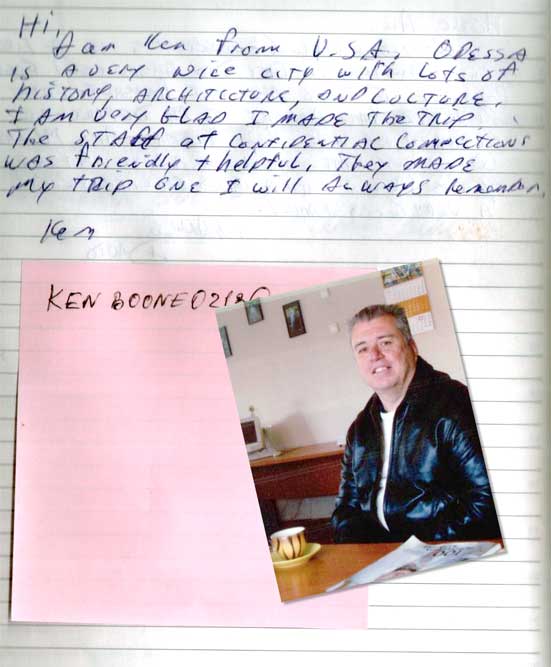 ---
---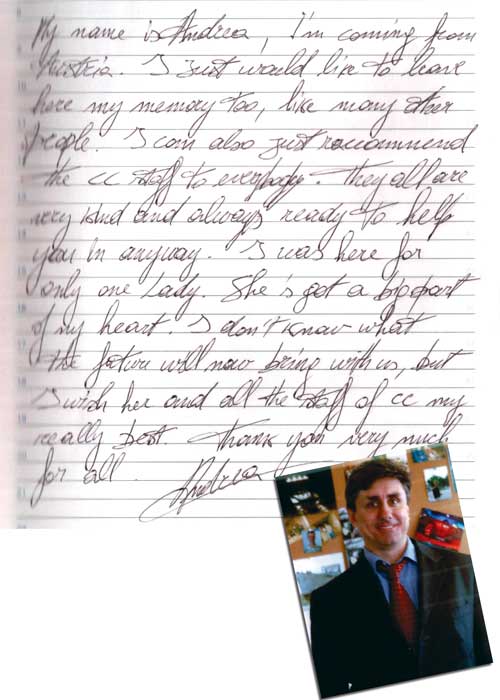 ---
I would say to all the people thinkink of taking a trip to the Ukraine to do it!
I have just returned from my trip to Simferopol. Everything was as written by others on this site. I was greeted at the airport by Zarina and my interpretor Rasul and the women of my dreams Angelica. They took me to the hotel and got me settled in. Then it turned out to be Zarinas Birthday and she invited me to celebrate it with her and her family. I was so impressed!! I spent 10 days getting to know Angelica and explored all of Crimea.
Rasul was a godsent. He knew perfect English and really helped in my times of need. I would say to all the people thinkink of taking a trip to the Ukraine to do it. The women are so friendly and sincere. I also think that the services you provided were excellent. I can't wait to retun!!
Sincerely, Jim Miklasz Chicago,Illinois / 22 Feb 2005
---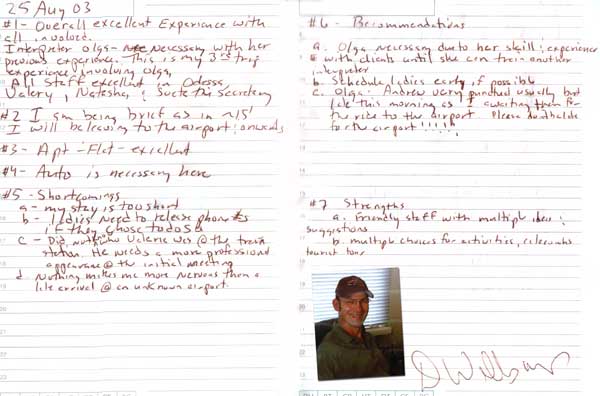 ---
Well those ukraine girls really knock me out, they leave the west behind....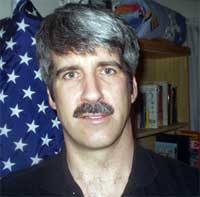 So the song goes but is very true. Your ladies at confidential connections are breathtaking. But I had one lady in mind when I made a trip to Kharkov in January 2005. A beautiful woman, Elena C. wrote me first in October of last year saying I would not regret writing back and we have been writing each other every day since. My initial meeting with Elena only confirmed what we suspected, that we had like minds and had found true love in each other. Very honest, loving, attentive and very relationship oriented. We felt like the world was spinning around us. My week trip to Kharkov was worth everything to me.
I want to especially thank Olga, what a treasure she is for CC. She enjoyed formulating plans during my stay that enabled Elena and I to weave our romance of each other and not have to worry about any distractions so we could concentrate on only us. She is an expert on people and knows what to do for each couple, making our plans her plans. Thanks Again Olga. To the guys reading these notes, get on a plane to visit these ladies in Ukraine, you will not ever regret your trip
Thomas / 10 Feb 2005
---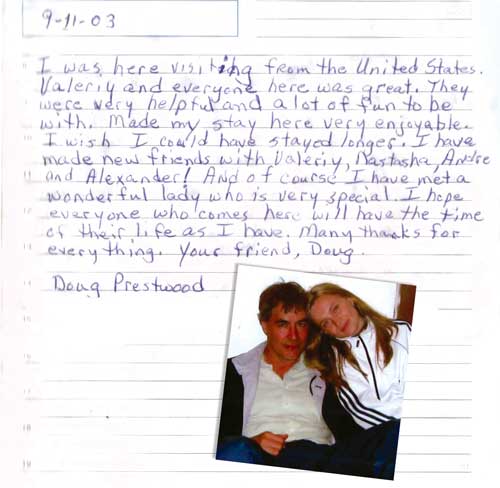 ---
My thanks and compliments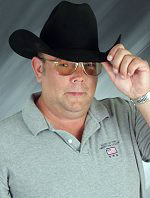 Hi Maria,
I returned home last evening safely. I wish to send my thanks and compliments to you as my trip planner and to the Lugansk and Zhitomir offices. While I was not able to spend much time with Katya in Lugansk because of the snow the agency kept me informed and was very gracious. The Zhitomir office was also very friendly and made my stay a pleasure. I am planning to return to Ukraine sometime in July or August and I will let you know the dates as soon as I know.
Thank you again, Mark / 8 Feb 2005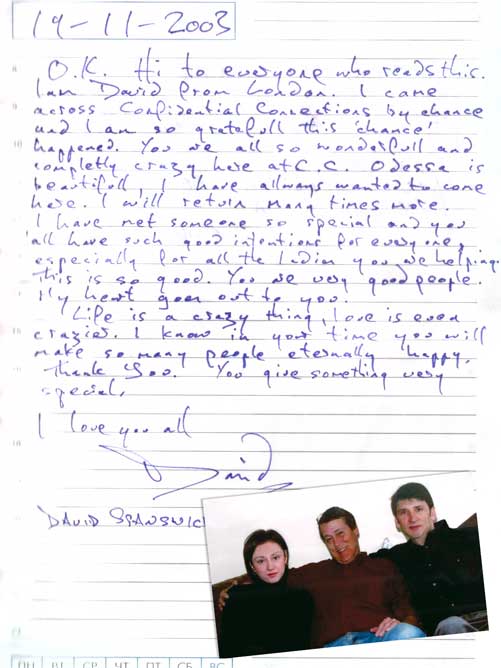 ---
---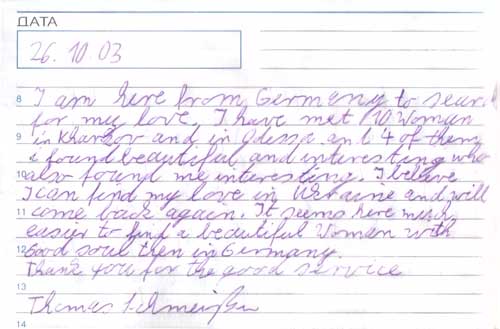 ---
Keep up the good work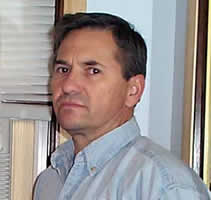 I just came back from a trip to Ukraine, I had a great time despite my luggage being missing for 3 days. I've read all about other people having good luck here and figured It was my turn to see for myself.
I spent the best 9 days of my life with a beautiful, friendly lady. We got engaged on December 28th and now I'm working on getting her home.
She is probably one of the best good will promoters you have. I truly believe that your doing men all over the world a great service, keep up the good work.
I'm a believer. Best advice is get on the plane, see for yourself, you will not be disapointed.
Thanks again, Dale Weter / 10 Jan 2005
Chicago, Il.
---
To All my Friends at Confidential Connections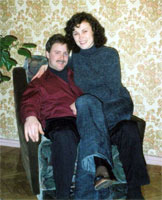 Several years ago I received an invitation to place a personal profile on your web site which I did. I began receiving emails that invited me to view profiles of the wonderful woman of Ukraine. After reading many of these profiles and corresponding with several of these woman, I came to understand that these woman have a wonderful sense of family and values that really matter.
Late in 2003 I decided to come to Ukraine and meet some of these ladies in person. I'm glad I did. Being the first time I had traveled abroad, I was a little apprehensive. My concerns were soon put to rest. I was met at the airport by a young woman named Olga, who promptly informed me that she would be taking care of me, which she did. She even scolded me when she felt I had not dressed warm enough. She was right, it was very cold out. Not only did she take good care of me, she also became a wonderful friend.
All of my meetings had been planned out in advance and Olga had left my last couple of days opened in case I met someone that I wanted to spend more time with. Once again, Olga was correct. I spent the last days of my trip with a wonderful woman that would later become my fiance. Natasha is a warm and caring lady with wonderful values. The immigration process has not been as difficult as I would have expected and soon I will be traveling to Kiev to be with Natasha and her daughter as they have an interview at the US Consulate.
My experience with Confidential Connections has been far more satisfying than I would have ever expected. I would highly recommend the agency to anyone seeking a long term relationship or just looking to travel and make new friends. My sincere thanks to all of those who helped to make my experience so enjoyable, and to Natasha, the love of my life.
Yours, Richard Howell / 3 Nov 2004
Portland, Oregon USA
---
Just a quick note to thank you for your help!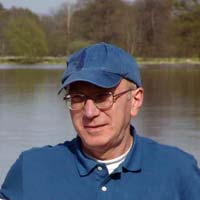 Hello Maria, Just a quick note to thank you for your help! I had a wonderful time in Kharkov, please thank Julia and Andrew for their efforts, and please let them know that I'm sorry we missed them on the day I returned to the airport. We were late returning to the hotel and thought the taxi in front of the hotel was for us, but I believe Andrew and Julia were expecting to take us, I'm sorry for the mix-up.
Regards Ray Harris / 28 Oct 2004

---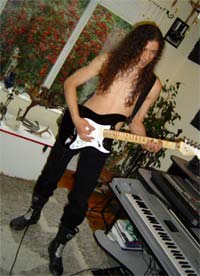 I believe the best way to find a soulmate is to just go to the place that you think she is at
Hello Maria,thank you for everything and especially for your care to me at the end of my trip. I believe the best way to find a soulmate is to just go to the place that you think she is at. Correspondence does not answer the chemistry question.Only meeting in person can truly answer whether or not there is chemistry between 2 people. I also did not take this trip to merely find a wife.I came to touch the people,learn,grow and experience a foreign land and leave with many new friend's. In this regard my trip was more than a success.I want to thank you for your care when I got to Zhitomir. I want to also tell you that Alex was a great companion to me and a valuable asset to Confidential Connections. It was he who introduced me to the underground music scene in your city.
I want to thank you and everyone at Confidential Connection's for introducing me to Ukraine.I will be back next year(sooner rather than later).
Christian / 25 Oct 2004
---
I think seeing hear and specking to her made all the differences in the world
Dear Steve and Victor,
Svetlana and I wanted to thank you both for all your help and great service. We are engaged to be married. I know this is a normal letter you get very often. However, I think it is important you know the end results. I can not say enough about the professionalism of your whole organization. From translating the emails to setting up trips in and out of Ukraine. Your staff worked very hard to help both Svetlana and I. This helped us get to get to know one another without the feeling of being interferences from anyone else. Your suggestion of getting the gold package was the right package for the two of us. It is very convenient to stay in the Kharkov Hotel. It is very well located and is very close to your office. This was very valuable to me when I heard my home had to be evacuated because of a hurricane.
Your staff was very helpful and understanding. We want to thank Julia and Gena. There professionalism and over all great attitude made our meeting even more successful. From driving us to the Village to helping us with my soon to be step daughter (Dasha) to give the two of us some alone time. They have been invaluable to the both of us. Thank them for us. I also want to mention your web cam and your phone translators. I felt very secure and excited about the ability to speck on the phone and see Svetlana at the same time. I think seeing hear and specking to her made all the differences in the world. It helps you feel more comfortable knowing the lady of your dreams is really there.
Once again we want to thank you both for how we where treated and hope you have great success!
Yours truly, Svetlana and Paul / 12 Oct 2004
---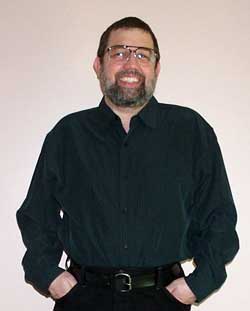 Confidential Connections is more than I expected and I will be using your services on my next trip to see my Lady
Hello Steve
I wanted to thank you for the best experience I've ever had! I booked your Golden Package and went to Lugansk were I was taken super care of,especially by the Lady Julia who translated for my self and my intended bride Svetlana. Julia must be a national treasure , she is most capable and discrete, and her diplomacy is unmatched, she was a pleasure for both of us to be with and I thank her most heartily. Your staffs flex ability with surprise change in plans was outstanding and I wanted to compliment you and them on all their help and the professional manner everything was handled in. Confidential Connections is more than I expected and I will be using your services on my next trip to see my Lady.
Thank You and please thank your staff.
Jim Hough / 05 Oct 2004
---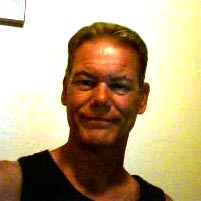 ...you have no complaints...
No question just a comment. I have been thinking of booking a trip so I checked you out with the Better Business Bureau (nothing personal) and you have no complaints in the last 36 months. I think I will going soon.
Thank you, Ken Jacobson / 29 Sep 2004
---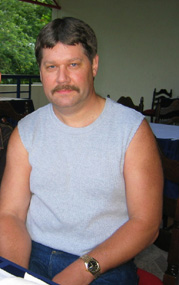 I spent the most incredible two weeks of my life with the lady of my dreams!
Dear Victor and Steven,
I have just returned home from my 3rd trip to Kharkov and I'm very pleased to inform you of my engagement to the most wonderful lady in the whole world. I spent the most incredible two weeks of my life with the lady of my dreams. We fell deeply in love with each other and will start the process of obtaining her fiance visa to come and be with me here in the states.
I have to put in a good word for Olga, she was once again my interpreter and without her, I wouldn't have been able to have the wonderful trip that I did and most of all, being able to do the proposal to my lady like I did. She went compleatly out of her way for me and Marina to make our time together very special. She helped me to pick out and purchase a beautiful engagement ring for Marina and she also helped with the planing of my proposal. There is just too many good things to list that she has done for me and for Marina too! We both love her dearly! You have a real jewel working for you, please take care of her!
Attached to this E-mail you will find a picture of me and Marina, please feel free to post this picture on the Marriages and Engagement page of your site.
Me and Marina thank you from the bottom of our hearts for all that you and your agency has done for us. Keep up the great work, your the best!








Sincerely, Don Reed and Marina Chuprina / 16 Aug 2004
---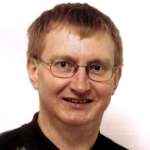 I thank you for 10 wonderful days in April
I have been busy since then. You were all working hard for me to have good days in Kharkov, but my thanks are most of all to Maria, to Olga who arranged everything, I wanted to do. And of course to Alex, our loyally driver. He always was there when we needed him. Everything went so fast in the airport, so I didn't have time to say thanks there. Suddenly I was on "the other side", and couldn't come back again.



Boerge Linnet Joergensen / 22 Jun 2004 / Platinum packages
---
I enjoyed the experience very much
Hello everyone in Kharkov office. I would like to thank everyone for the help & assistance during my stay last week. You all helped make my trip a special one. Iwould like to say a special thank you to Maria for your help. I ask that you give my best wishes to all the ladies in the English class that i attended Friday & wish they all learn their English language

very quickly. I enjoyed the experience very much.
A thank you to your driver Pasha for my very swift route to Kiev. You have all helped give me the oppertunity both to visit your country & meet some very special people. Once again i enjoyed my holiday, many thanks.





Regards Scott / May 25 2004
---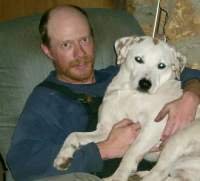 Bravo , to you and Your Employees, I would rate your company at an A+++++++++++++ :)
Greetings from the Midwest,
I just wished to thank you very much for having the intelligence to start such a company as Confidential Connections.
Your staff here in the U.S. and the Ukraine both have been very helpful and patient with my questions. Since I am a first time traveler out of the U.S. I of course have some anxiety about everything and to meet someone I care for so much after I arrive is almost overwhelming.
I am by no means a rich man , but if I were there would be a bottle of fine wine on every ones desk from me, all I can offer is if anyone from your staff, or you yourself need anything within reason, feel free to contact me and I will do what I can to help.
One who has been most helpful is Maria with the travel department, in my opinion she is a gem, employees who go the extra mile as she has done for me are irreplaceable and an extremely valuable part to any business. When all the computers went haywire from the hacker punk in Germany Maria and I were in contact several times since some strange things occurred which made me look like I were two timing my lady, Maria contacted her to let her know that the computers had made an error and I could not be more grateful to anyone but her for this.
Bravo , to you and Your Employees, I would rate your company at an A+++++++++++++ :)
Sincerely, Turner Simon / 21 May 2004?
---
---
Don't listen to the nonsense you typically hear in the media about "mail order brides"!
The term is used by those who want to discourage international dating. After visiting Kharkov, I understand why the "Females with pants" are so bent on discouraging this opportunity! Ukrainian women are sweet, cultured, proud, intelligent, and very feminine and sexy. And they manage to be all these things without compromising their independence and strength. These women are not door mats, eager to become your servant or concubine!
But if you are looking for a loving, faithful, loyal and beautiful wife, and are prepared to treat her with the respect and dignity that such a treasure deserves, look no futher! Trust your instincts! 99% of these women are exactly what they say. They will not pretend to be what they are not, they will not tell you what you want to hear. So when you find someone who seems to be your match, go to her! You will not be disappointed! I found true love here! So will you!
---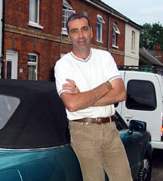 Do it guys give it a try what have you got to lose and look what you have got to gain.
Well gentlemen I did the trip not really knowing what I was in for and I had a very enjoyable time I must confess. My interpreter Olga was brilliant and we had a good time as much as with the ladies that I had chosen to meet.
I met with two beautiful ladies who were mature in their outlook and I when I met with Irina the second time it quickly became the third and fourth and she is the lady I have settled with. It is a meeting of not just mutual attraction but emotionally as well, one lovely lady. Do it guys give it a try what have you got to lose and look what you have got to gain.
---
Maria and all the staff of Confidential Connections!
I would just like to thank you, and all the staff at Confidential Connections, for your help in arranging my trip to Kharkov, and with the complications that I experienced upon arrival at the airport. In spite of these complications, I had a very enjoyable time in your beautiful country, and am already beginning to plan another trip for this summer. Best wishes to all of you in this new year.
Cordially, Roy E. Benedict / 22 Mar 2004?
---
Greetings from the Midwest
I have recently been viewing more of your site, testimonials, general warnings and such. To stay away from certain cities where women are manipulative and possible hazards to the men they meet. It pleases me to know that the women you choose are picked from Universities, also that you screen them for such activities as prostitution. This to me says a lot, I have heard remarks from aquaintances of mine that all I will find is manipulators and prostitutes which at first discouraged me very much. After viewing the fraud policies for the U.S. and your strict rules my fears are gone except for traveling abroad. I am in contact with a very beautiful woman whom I am planning on visiting within a few months.
My major question, this may sound silly, how are Americans viewed and treated in the Ukraine. Many countries treat all Americans as the lowest forms of life on the earth. I will not let this deter me from my trip, I would just prefer to be prepared.
What you have done with your establishment is quite extrodinary and I have a good deal of admiration for you and your employees, everyone has been kind and quite helpful.
The woman which I correspond with is so much more than I ever expected, I have actually begun lessons in the Russian language, she is so much more than any American woman it is amazing.
You and your staff seem to care for the clients but the women as well. My hat is off to you and your staff.
If you are ever in Kansas City, Missouri for any reason and need a hand with anything , please feel free to contact me.
Sincerely, Turner Simon / 15 Mar 2004


---
I highly recommend CC!
I highly recommend CC. I have met and correspondend with a great girl for nearly 2 years. I could not afford to use a CC trip but made my own way to meet her. I lived poor and cheaply in the ukraine for a week and a half but it did not matter, I spent the best days of my life with Lyudmilla . We are now married under common law, and she will be comming here soon to be my wife. I am truly happy. I found the girl of my dreams on the other side of the planet. she is a great girl and her friends are very nice also. thank you for tolerating me. I now know what true love is. I have it now. thanks you.
Robert S. Ulbricht / 12 Mar 2004?
---
I'd recommend Confidential Connections to everyone!
I would just like to take a moment to tell you what anoutstanding job of Customer Service that Maria Stecenko is providing Confidential Connections! Maria has gone "above and beyond" the "line of duty" that one would expect. I had a few questions about "proceedures" for meeting a lady in Kharkov, and she responded back immediately with the answers I was looking for; and even answers to questions I hadn't thought to ask!
One other dealing with Maria concerned non-response from two ladies I'd written to. Again, Maria stepped-in and personally found-out what had happened; and immediately e-mailed me with an explanation. I can honestly say, that you have a real "gem" in Maria, and I hope that you will take note of her great customer relations skills; as well as passing on my personal "thanks" to her!
Maria's personal involvement in my questions and problems I've had, is proof of what an exceptional agency that Confidential Connections is! Everyone I've had any dealings with at Confidential Connections has been very cordial, and shown genuine concern about seeing that my questions were answered, and problems solved!
I can assure you, that I'd recommend Confidential Connections to everyone! This is, beyond doubt, a completely honest and upstanding agency!
Sincerely, Richard "Skip" Elefson, Jr. / 29 Jan 2004


---
I am very thankful.
I am very thankful for the website, because I have grown to know many girls and have really enjoyed it. The girls in the website are real.
Robin / 25 Dec 2003
---
Thank you again
My intention has never been to hurt another lady's feelings, but I am no longer searching for that one special lady, I have found her and my visit with her this past August verified all the feelings which developed in our correspondence during the prior year. She and I will be very happy together!
Also, I would like to request that Masha Chernyshova be the interpreter of correspondence between Galina and me. Masha did such an excellent job for us during my visit, that I trust her completely to interpret our correspondence. Thank you again for you assistance and helping me locate the love of my life!!!
Jeff Slater / 14 Dec 2003
---
Thank you and your staff for your continued support
I wish to thank the efforts of the CC staff in providilng my wonderful experience of communicating, buildilng a knowledgable relationship, then meeting and falling in love with a wonderful lady through CC.
I found the visit to Kharkov was a wondeful experience but not just because I found my wonderful lady but also because of the attention of the staff to provide any help towards allowing me to use my time there efficiently. The translator was kind, professional and so helpful in allowing good communication with the Lady. She also helped in her knowledge and advice of activites, restaurants etc in the area.
Thank you and your staff for your continued support
Robert Keller / 10 Dec 2003

---
Ukrainian women are infinately more beautiful than those here in England...
I have been writing to a wonderful young lady for a short while now, we are getting closer and closer as time goes by. I have never met anyone in England like her, she is so sweet and honest and I can honestly say she is definately "my type". Ukrainian women are infinately more beautiful than those here in England, well Yana is in my opinion.
I hope to be visiting her early next year, I'm really looking forward to it as it will be my first trip abroad. I can only thank CC for bringing Yana and me together, the way things are going this could be the start of something beautiful.
Thanks again, Gary. ;-)
Gary Ray / 25 Oct 2003
---
It's GREAT!!!!
Since joining here,I have had numerous e-mails from ladies interested in me ( Better than other sites that i tried), & all have been geniune!! I can think of of no where else that you can get this level of interest from genuine people & the security it affords! Try this site & see for your self ... It's GREAT!!!! :0)
James Hall / 21 Sep 2003

---
I can prove it that the girls on the site are real!
I've visited Kharkov in June 2003 and met with some of the girls I've been writing to by e-mail. Well, first I would like to thank the CC personnel for the most friendly welcome. And most of all my interpreter Larissa, that speaks wonderful German :-)
Just as I arrived to Kharkov I was picked up right from the airport by Larissa, a driver from CC and Svetlana, a girl I was in correspondence with for a while. The hotel was quite correscponding to the western standarts.
I can prove it that the girls on the site are real. They all were very kind, I've had a wonderful time going out with them. I haven't yet been with that many pretty girls tofether in that little time. I'm not yet sure if I've found a Lady of my life, so I'm thinking of visiting Kharkov one more time. CC proved itself to be a serious agency. In fact, one time it was founded for the americans but I was absolutely contented with the service as a German as well.
Frank / 17 Aug 2003
---
You've been great
I definitely think this agency is the real deal. I've always gotten very fast responses to my questions or minor problems with my account.
I've received a handful of letters from different ladies and am corresponding with one right now. I hope things continue developing between us.
I plan on making a trip to Kharkov in the future to meet this lovely lady in person. I've also started learning Russian so that it will be easier to communicate as well. It's only fair guys!
've been doing a lot of reading and talking with people. There were two men in the Russian class I took at a local college who just married their wives from an agency like this one. They took the time to tell me about the local group in Southwest Ohio. (There's like four couples in my immediate area.) I'm having dinner with one couple this week. They've all said they'll help in anyway they can to make this easier.
I look forward to booking my trip and meeting the office staff in person. Especially you Yuri. You've been great.
Michael / 21 Jul 2003
---
I am very impressed
So far I am very impressed with the stunning ladies on your site! They all appear to be "the Real Thing" as far as a "future life- and soulmate" is concerned! I intend visiting Kharkov & CC later this year with my eye on meeting my future wife! I concur 100% with a testimonial from Jim Bradley - South African women tend to have the same priorities whereas the Ukrainian women are more relationship oriented!
MAN, I can't wait for my trip!
Greetings Jacques a.k.a. Jeffo / 15 May 2003
CC has too be tops on my list
I too have seen many advertisements about dating and such but, CC has too be tops on my list. Right now I\'m financially handicapped but that is not going to hold up my desire to meet these ladies. I am Native American here in the U.S and find it difficult to see the fine qualities as what I see in the Ukrain women. They show no indication of selfishness or self righteousness, I see wholesome sincerity and total compassion. Some have written me and I'm sorry I can not write back so earnestly but by next fall I will have pictures of myself for them to see and more time to find my infinate lovemate. Steve can you put me on hold until the fall of August ? 2003! I thank You for your time and effort and the rest of your staff I shall return in hopes in finding the ONE.
Sincerely Young Kotatams / 28 April 2003
---
I enjoyed Kharkov immensely, the people, the sights...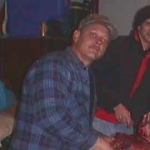 Victor, Thank you and your staff for all that was done. Vika was awesome as an interpreter, I could not have asked for any better. If you ever need someone to speak on behalf of your organization please let me know. I would be more than happy to do so.
I enjoyed Kharkov immensely, the people, the sights, and most importantly, Valentina. She is the highlight of my trip and I will be the first to say soon to be my wife. Thank you again for all your staffs help and the service that C.C. Ukraine provides.
Sincerely, Bill Jones / 25 March 2003
---
Thank you for all the chances!
Thank you for all the chances you have given me to meet and get to know lovely understanding women from all around . Good luck to you all and keep up the good work.
ATHBI N / 25 January 2003
---
What is said on these pages is true!
I have only recently joined Confidential Connections after an invitation received on another site from a young lady and can immediately see the professionalism of the operation and the rationale behind it. I currently live in England but have had the pleasure of working in Eastern Europe, a different world in some ways, for a number of years, mainly in Bulgaria but involving ladies from The Ukraine and the CIS who worked with the organisation for which I was proud to serve.
I would echo comments made about their sparkling personalities, pride in personal appearance, their attitudes and emotions in comparison with other nationalities, prioritisation, especially when looking at partnerships and seeking soul-mates, What is said on these pages is true, age is not an issue here, it is quite common for there to be more of an age gap than in western european general practice, I commend this ethos and wish CC every sucess and look forward to my own quest to whom whoever that me lead me.
Merry Christmas and a Happy future to all.
Richard Angell / 2 December 2002
---
You have so many beautiful and sweet ladies it is extremely hard to choose.
I want to add my thanks, you have so many beautiful and sweet ladies it is extremely hard to choose. I'm presently talking to a couple of them and they are so nice, intelligent, curious and sincere. I can't wait to go to Kharkov and meet them in person.
Thanks again.
Steve Wasmuth / 22 November 2002
---
This agency is for real.
I wanted to say thank you to everyone that made my trip a success. I especially want to thank Julia and Oksana. There help in helping me find the lady that I have been looking for was more then I expected. To all the guys that are not sure if they should go on the trip, GO! It is an adventure that is well worth the time to travel there. The women are incredibly beautiful. This agency is for real. I am planning my next trip to go back and see my lady as soon as I can. Steve hooked me up with a great travel agent also. So give a call to him guys. Thanks everyone and I will be seeing you again in Feburary of 2003. Jay
Jay Davis / 29 December 2002
---
Merry Christmas
I had some big luck here in Sweden and found a wonderful girl.
I wish you all good luck and Merry Christmas to you.

Niklas Knutsson / 22 December 2002
---
Get on the Plane....NOW!
Hello Victor and Steven...
I was recently in Kharkove (August 2002) and have just returned home to Canada, I dropped by the agency to visit you Victor but you were at the dentist. I want to thank you from the bottom of my heart for helping me to find the woman of my dreams. Anna is everything I hoped for times 10... When I stepped out of the customs office at the airport and saw my beautiful lady... I was overwhelmed with emotion.
The three weeks I spent in your city were nothing short of fantastic. I can only say to the men who are reading this..."Get on the Plane....NOW!"
Victor please ask Anna for a picture of us to post...we took so many...and please eliminate my profile as I will not be needing to write to any of your beautiful ladies...I have found my Jewel...She is the most beautiful, kind, considerate, and sexy woman I have ever had the fortune of starting a relationship with...Our plans are for her to move to Canada in Spring of 2003...I will visit again during the Ukrainian Christmas Holidays..

To end this letter ...I will stress my point to all the men looking at the profiles...start writing NOW...get on the PLANE...NOW....You will not be sorry...
Faithfully Ed B / 27 August 2002
---
Thanks...
Even though I have not been on a trip yet. Actualy I'm just getting started to e-mail some. I need to say that Steven and his staff have been most helpful. Plus everything I have seen thus far looks great. And also studying the profilies of these ladies I can feel a sincerity that I have not felt with some "other" agancies over in that part of the world. Plus the others do not have nearly the kind of service that this organization has. Looking forward to a trip to finaly meet my lady when the time comes!
Michael De-Jesus / 21 August 2002
---
Get with confidential connections, and find a top quality life mate!
Dear Steve - First I want to say what a wonderful service you guys offer. In America, the women seem to have this obsession for "bad boys", leaving "nice guys" out in the cold. The statistics speak for themselves: A lawyer who does stricktly CIS and Ukraine K1 visas, has done them at a rate of over 400 per year for 10 years. In that time, only 1 couple has gotten divorced. Compare this to the rate of American divorces now approaching 70%! Last Christmas, this lawyer got over 4000 cards from happy couples. What a nice problem to have, opening that much mail?

Anyway, the purpose of my letter is to inform you that I am now engaged to a wonderful Ukrainian woman I must admit it's been much easier using an already in place service like yours. Of course any correspondence is always welcome, I no longer have need of searching for the ONE.

Feel free to use this letter as an advertizement as you see fit, as I for one believe you are providing an invaluable service to all the "nice guys" in America who are looking for and truly believe in a lifetime relationship with a woman who is equally committed.

As far as the ladies go, "Confidential Connections", they are absolutely "top shelf".The Ladies, Intelligent, beautiful, sense of humor, dedicated. In support of this, I would like to relate a small story about my own fiancee.

She is a former fashion model, with a medical degree. She has 12 years of classical piano training, 4 years of ballet, and 6 years of gymnastic training. I visited her in Ukraine in March, for her birthday. Now to give you a feel for the level of dedication: We had a big party for her birthday. Many friends and family present. Afterwards, she said, "I must appologize". I said, "for what"? She said, "I paid too much attention to my friends and family, and not enough attention to you tonight". Well, you had to pick me up off the floor. What it comes down to is priorities. These women are easily as liberated as any American woman, but their priorities are different. In America, the priorities are in order: 1) Friends; 2) Money and career; 3) Family; 4) Husband. In Ukraine, they are: 1) Husband; 2) Family; 3) Career and money; 4) Friends. How many American women would ever make an appology like that.

In short, American woman have absolutely nothing on these women, and once a man hooks up with one, he will be spoiled the rest of his life.

My advise to any "nice guy" who has been dissed in favor of the "bad boy" in this country: Get with confidential connections, and find a top quality life mate. You won't regret it. As they make things go much more smoothly.


Good luck to all - Jim Bradley / 20 August 2002
Thank you Steve, Staff and translators.
??As of July 27. 2002 Natasha and I were married. Without your help this may have never happened.I spent 58 wounderful days in the Ukraine and stoped by the agency only a couple of time, each time I was made welcome and shown around any place that I asked. I meet you Steve and think that the agency can help more by explaing some of the complecation that can arise if not prepared in advanced.. 1st let sutter know that all document that are leagal in the US may need to be leagalize in the Ukraine embassy in the US Only, Such as previous marriage/death/divorce certificate. This is a time consumming process and it can get quite expensive if a rush is place on the need to aquiring leagalization. Also the 30 day waiting period to get married is from time of registraion not entering the country if a person desires to aquire a K3 visa. Last that after all these thing are done if traveling to our Warsaw embassy they will need a second entry visa t! o enter the Ukraine. Thanks again and I would be happy to tell anyone that Ukraine women are great.
Richard Richmeier / 17 August 2002
---
Thanks!
??I thanks CC for bringing out this service, where a person gets acquainted with others so easily. In this electronic world were means of communication
getting easier, their stands CC to make people reach out and look out for the most understanding life partner.
I once again thanks CC for this.

Khaja / 14 August 2002
---
Your one of the top two!
??Steve, yes you are the top two that I have connected with. I spotted junk right from the start with some of other advertisers. Yes and some scams. I asked you a couple questions and you put out the right word. I have spent time with one of your ladies in Paris, Turkey and Greece and with the other in Turkey. Really a hard choice as they are both great and one will be here in the states this next week and the othe wants me to live with her in the Ukraine. Both are great LADIES and I do mean LADIES! You are an honest and true operator Steve.

Thanks. John. / 3 May 2002
---
From skeptic to believer.
Dear Conf Conn,
I'd like to take this opportunity to extend my sincere thanks to you for suggesting that I consider taking a trip to the Ukraine and in particular the City of Kharkov, during the last holiday season. I would also like to extend my heartfelt thanks to your staff in Kharkov for all their help during my stay.
We have become friends for some time, both in the professional world and personally. Because of that you knew that I was a world traveler, but had never been to Europe. Much less to the former Soviet Union. After numerous discussions both on the telephone and by email, you finally convinced me to give it the "old college" try and make arrangements to go. So I dusted off the old passport and set my sights on the then difficult task of obtaining a travel visa and airplane reservations. You recommended travel agent was the best.
Through your efforts, you booked me into one of the best hotels in Kharkov (Hotel Kharkov). Contrary, to reports of substandard conditions in the hotels there, I never experienced a moment of discomfort. I was extremely well cared for by the Hotel staff and couldn't have asked for more. Of course, your Kharkov staff made every effort, as I mentioned above, to make sure that I was well cared for and shown the utmost respect throughout the two weeks that I stayed there. I'd be remiss if I didn't mention my tour guide and interpreter for the time that I was there. She was waiting for me upon arrival at the airport in Kharkov. Accompanied me on many of my activities while I was there and provided the window of communication that I sorely needed. She was also there to teach me about the Ukrainian culture. And, was the one who introduced me to a very special lady, of whom I will speak more of in a moment. She was also there at the airport upon my departure along with, your co-owner Viktor and agency Director Pasha and other staff members. Quite a send off. I felt like I was leaving my family. Again, thank you all for a wonderful time.
I need to digress and explain my personal motivations for taking the trip to the Ukraine. I mentioned that I was intrigued with the idea. After looking over the internet site for the agency I decided to begin correspondence with several of the ladies listed there. That was almost a year and a half ago. I had no real expectations, other than the thought, it came to me that it might be nice to hello to them in person. That was about the same time that we had started our conversations in earnest, concerning my travel arrangements. The thought also hit me, that it would also be a good time, to say thank you in person to you, for your efforts, related to my opening statements. I must also say that I wasn't without female companionship in my city. But, had become disillusioned with the state of "Feminist" females in general and their attitudes related to "Modern" men.
I got my wish and was able say hello to those ladies, I had been corresponding with. But, I also had the opportunity to meet and spend time with a number of other ladies. To this day, they, both as a group and as individuals are among the most beautiful and spiritual women that I have ever met. To say that I was impressed would be an understatement. During one of our discussions there (yes, you where there) I made the statement that I didn't know how a man could expect to find a meaningful relationship in the short time allotted. I couldn't see how that could happen. Oddly enough just before I made that statement, during one of my interviews and lunch engagements, I had met the love of my life. It just took a little time for the pot to boil. Little did I know, that several days later, I would be eating my own words.
There was a brief timeout, while I attended the out of town, New Years activities that the staff in Kharkov had planned and to which I was invited (like family). Upon my return several days later, however, she and I met again. This time it didn't take an interpreter to help us communicate our feelings. It just happened. For both of us. We are very much in love and are engaged to be married this coming fall or sooner. We both are looking forward to this!
Maybe it was because of my actions in taking a chance to go to the Ukraine Or, maybe it was just my time to realize a wish come true. In either event, you guys out there who are now reading these words, don't be afraid to take the same chance that I did. From skeptic to believer. It can and did happen for me and the love of my life. Although at the beginning, I would not have believed it.
Respectfully yours, Dan McIsaac / 13 March 2002
---
I am happy to add my name to your list
Hi,
I am very happy to see that Victor is losing space in his office in Kharkov to more desks, more staff and hopefully it is because your business is very
successful and growing in leaps and bounds. I have seen a few companies alter in growth phases but I expect yours will continue to excell due to the superior customer service you provide to your customers, and I have not gone to Kharkiv yet! All great companies expand by word of mouth about how great their experience was and I am happy to add my name to your list. I will gladly offer the use of my comments if it in any way can reflect the values you hold and the dedication you reflect toward your customers.
Thanks, and looking forward to seeing you in Kharkov soon,?
Leo Lee?
---
Thanks again to everyone!!
Steve,
I would like to thank CC for the most life-changing experience of my life. Being a a nice guy, that never had a difficult time getting dates but was always frustrated with the philosophy of the modern female's, I was very pleased with my experience in Kharkov and CC. The women exceeded my expectations. Being 37, twice divorced with two kids normally turns off women I try to date. My "baggage" didn't seem to bother the Ukrainian women, they almost seemed to embrace it, they knew that my history couldn't change, but my future could. Much like the the Ukraine itself. I dated beautiful women from 18-30 years old, and found them to be driven, intelligent, sexy, compassionate and very understanding. They asked direct questions and expected direct answers, and I was able to do the same, no "mind games", no beating around the bush, no intimidation because they are so attractive, honesty prevails; sincerity is expected. They love being looked at (staring is not considered rude here) and being complimented, no looking down and away when you meet them on the street on in a hallway. They truly represent what a woman is and should be all about. They dress well, eat well, and keep themselves in very good physical shape. You are expected to treat them like a lady, and it comes easy, because you are treated like the man that you are. They are liberated in every way but have no interest in the "empowerment movement" that some women are on, they love their role as a woman whose priorities begin with their husband and family, not their friends and careers.
I will never date another female in my country again, I will develop my relationship with a lady that I met on my trip, but if we find we are not meant for each other, I will return to Kharkov in a heartbeat. But I have a feeling that will not be necessary. I met 4 or 5 women that I would be more than happy to spend the rest of my life with, I was able to afford to be picky, after two divorces, I can wait for the ultimate mate, and I more than likely have found her.
A special note to the staff of CC. You made me feel like a member of your family, the staff are as close to each other as coworkers can get, and they made me feel like someone that they had known all their lives, a special thanks to Olga, my interpreter; you know you are my little Ukrainian sister, and I thank you for making everything go so well, you quickly learned what kind of women were my type and you guided me well through the entire process, you are truly one of the fine jewels of this company. And to Steven, I will be sending all my friends your way, I had a better time than you said that I would, you guided me to all the right people, including my travel agent, Natasha.
The staff in the Ukrainian office exceeded all my needs and always made sure concerns were taken care of. I could go on and on, but men need to see for themselves how wonderful this experience can be. You don't need to try to overly impress these women, they will see you for who you are, remain humble and sincere, and you will find the woman of your dreams.
Thanks again to everyone!!
Fredrick Brown / 5 March 2002
---
I am now engaged!
??Dear Victor and friends at Confidential Connections: I am pleased to announce that Natasha D. and I are now engaged. I met Natasha in May during my 5th visit to Kharkov. We had an immediate chemistry and rapport. Using the e-mail facilities of your website we have exchanged e-mails nearly every day. Last week, we vacationed together in Cyprus. You should have seen Natasha's eyes when I proposed marriage to her and offered her a ring. I think she was in shock, but she managed to say yes. We are very happy together. We will be using the services of John Roth, the attorney recommended on your site, in order to assure smooth processing of our K-1 visa application. Thank you Viktor, Natasha, Olga, Julia, Pasha, Steve and all those who work so hard at Confidential Connections to help couples like Natasha and I to find each other. We will send you pictures of our wedding. Warmest personal greetings to Victor and Natasha Filin-Filinyuk. Thanks for everything!
Sincerely, Glenn J??
---
Hi everyone!
??Believe it or not, I miss the place: I should have stayed longer but you know how busy I am at work. I had a swell time and the girls are so nice: I'm thinking on moving:. Ahhh:. Only kidding: I received a letter from Julia, I never thought I would hear from her. I'll let you know how it goes.
Mahud S.
---
To Steve.
??My two friends now are booking trips after hearing my stories. What kind of commission are you gonna pay me? Just to let you know what's going on: Natasha and I are going to spend the week together, she wants me to meet her parents and I'm gonna do it. My friends are jealous 'cause now my girl will be the hottie in the crowd. Thanks man!
David R.
---
To all the staff.
??I just wanted to send you a short letter to say thanks for introduction me to women that I would have never even thought of approaching. I wish I`ve net the woman of my dreams. Now all I have to do is choose one out of the 4 to complete that dream. Tell Ramadan "you Party animal! , I`ve never had so much fun going out for a night in a town, I think he knows more women then you guys I`ll let you know when I`m coming back to Kharkov and who`s the lucky one.
Bill C