Testimonials
---
Dear Gentlemen, here we are happy to represent you the Testimonials of the customers who have found their soulmates with the help of the Marriage Making Agency. Here they express their opinion, experience and suggestions for those who are looking for a second half in another country and appreciation to the company and the staff.
---
---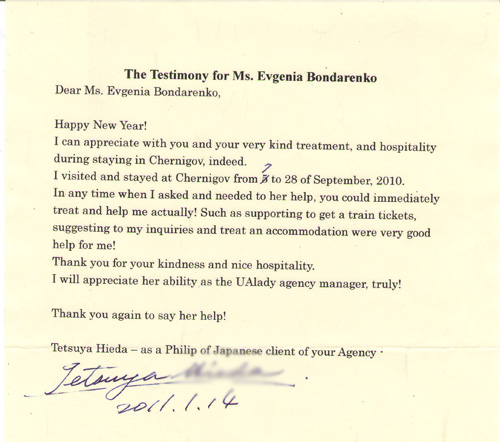 Phillips T. from Japan, trip to Chernigov, September 2010
---

Ronald de M. from Belgium, trip to Zhitomir, December 2010
---
I have been on the ULADYS..
I have been on the ULADYS site for about a year, I am encouraged by the attitudes of the Ladys from the Ukraine, the old fashion values and desires to find love, be faithful,stay together forever is very appealing and what a man is looking for, these qualities are very seldom present in the USA today as our women have too much freedom, money, power, and control, very spoiled and have little or no room for compromise so a relationship or marriage can continue and grow. Its very refreshing to see all the lovely ladies of the Ukraine, that are steal real Ladys and talk and act as a lady should. These are the qualities that allow a relationship to grow and a marrige to grow into a one soul mate happy life. I will be coming next year when the weather is good there, I feel sure I will find a beautiful lady to love and be loved.
Roy in Texas
---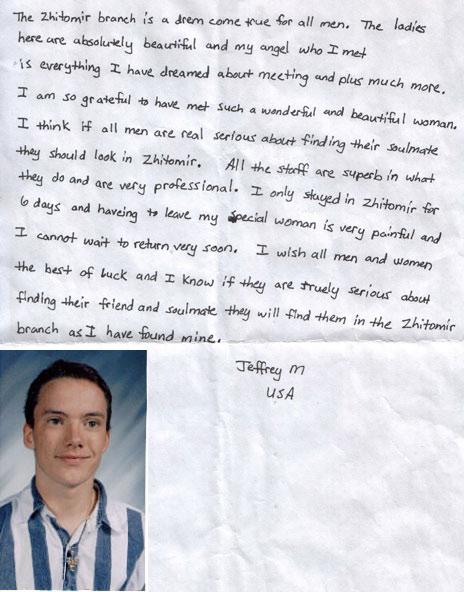 Jeffrey M. from USA, trip to Zhitomir, October 2010
---
Edward G. from UK, trip to Zhitomir, October 2010
---

Michael R., trip to Kiev, October 2010
---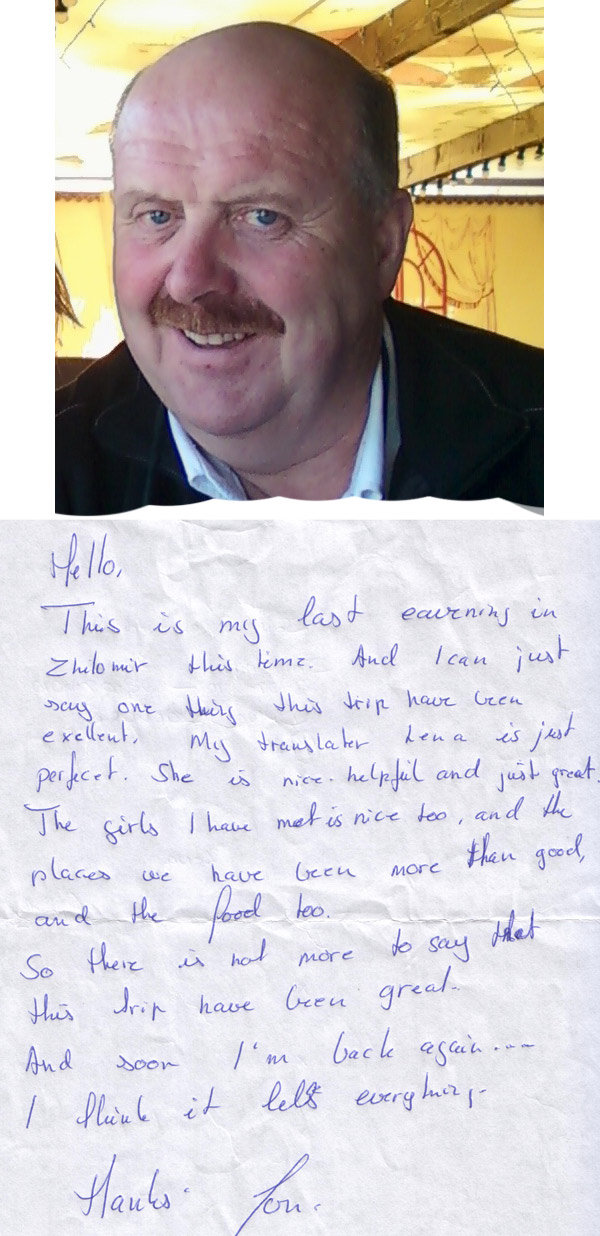 Jon B. from Norway, trip to Zhitomir, September 2010
---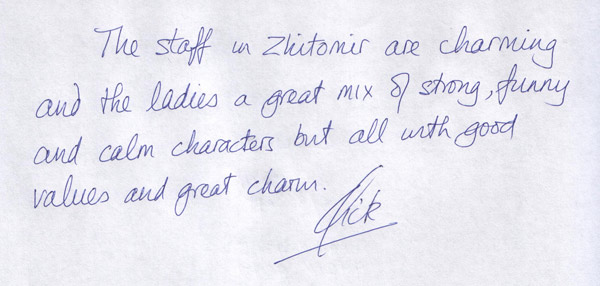 Nick C. from England, trip to Zhitomir, September 2010
---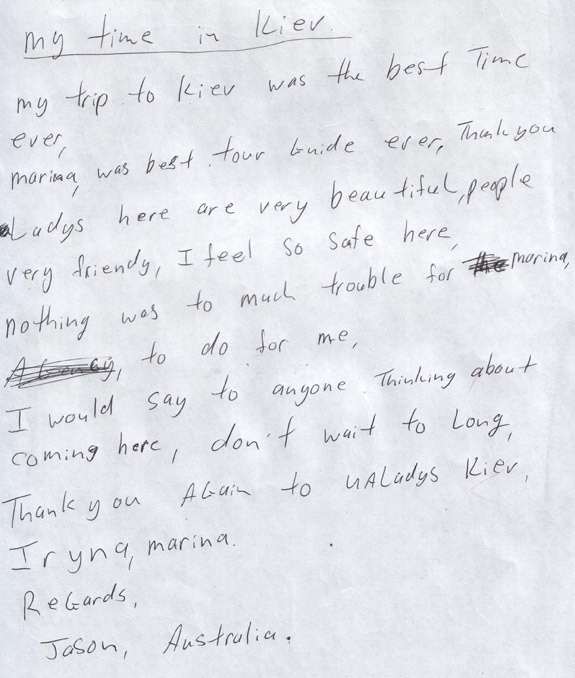 Jason W. Trip to Kiev, September 2010
---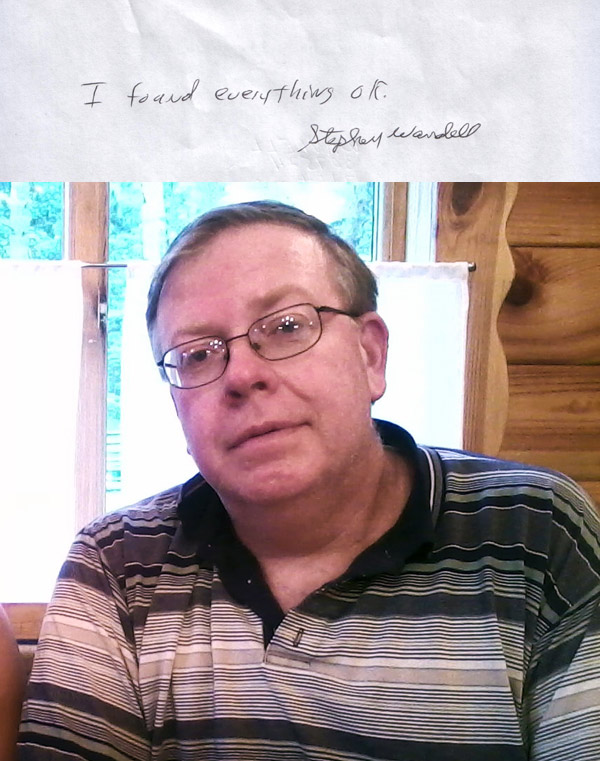 Stephen W. from USA, trip to Zhitomir, September 2010
---
Werner M. Trip to Zhitomir, August 2010
---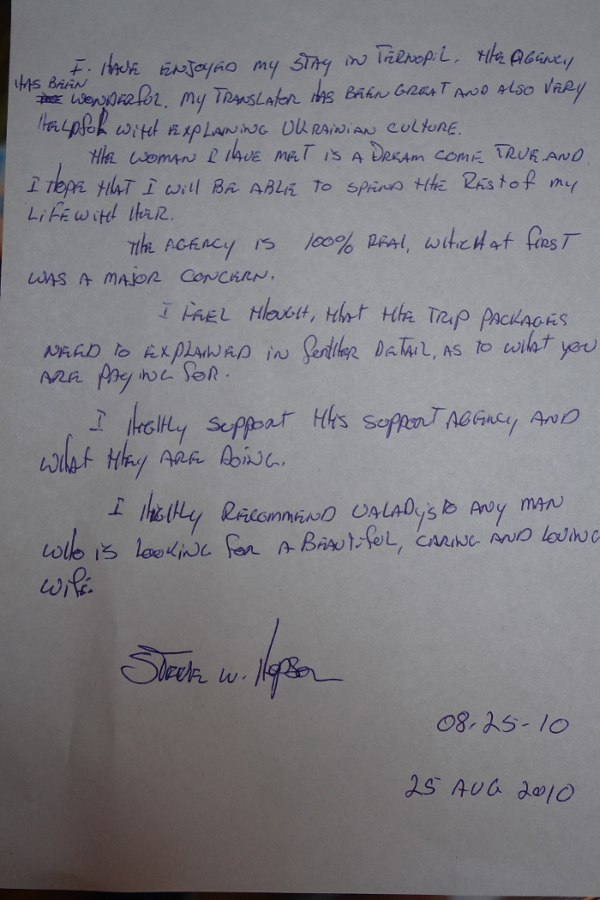 Steve H. , trip to Ternopil,25 August 2010
---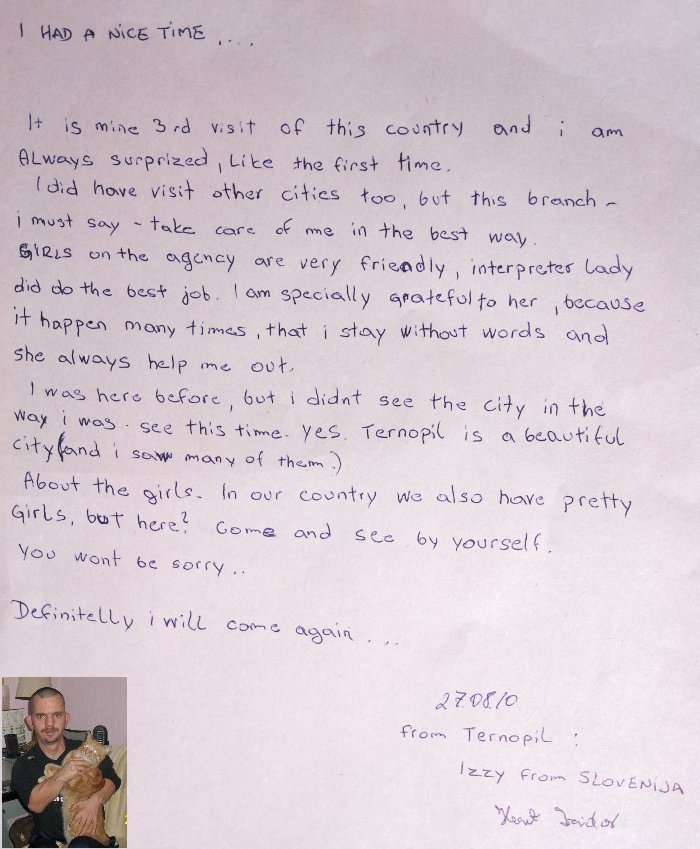 Izzy H. from Slovenia, trip to Ternopil,27 August 2010
---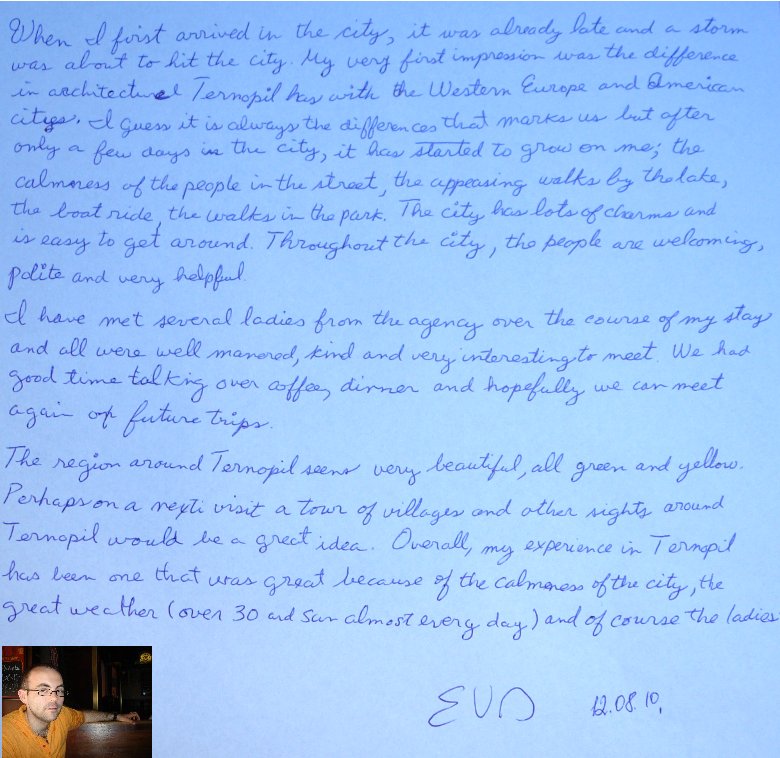 Vincent D. from Switzerland, trip to Ternopil,August 2010
---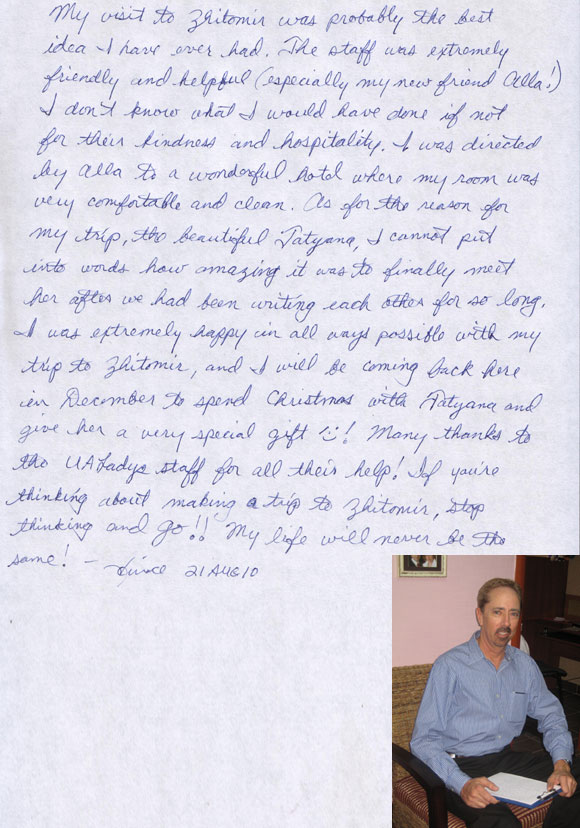 Vince W. from USA, trip to Zhitomir, August 2010
---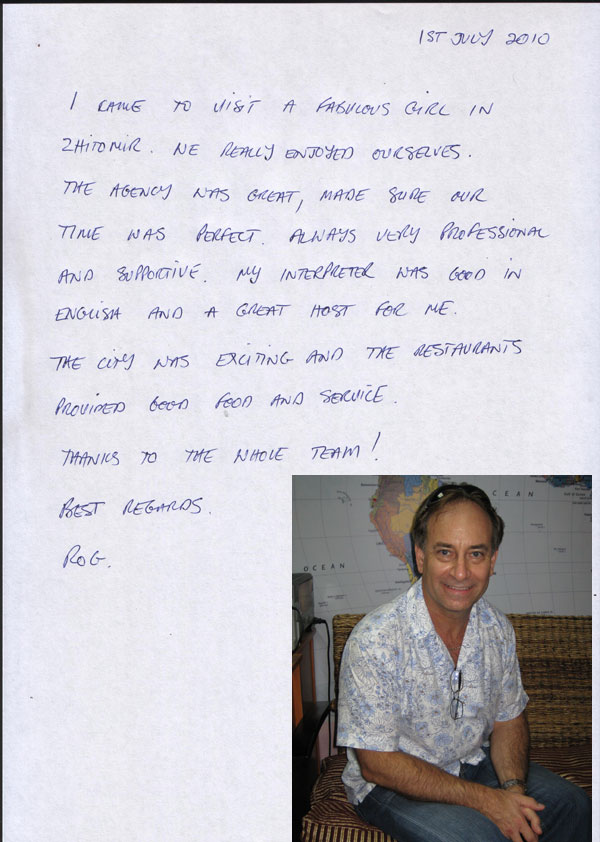 Roger A. from South AfricaTrip to Zhitomir, June 2010
---
I would like to thank..
I would like to thank the helpful support from the staff of UALADY's during my trip to Kharkov. Natasha was my guide and translator. She was very knowledgeable about the city and always set a great atmosphere for translations. She was always there anytime I needed help with anything and always showed great enthusiasm. It was a pleasure to have such a person with me during my stay.
Sincerely Darren B.Trip to Kharkov, June 2010
---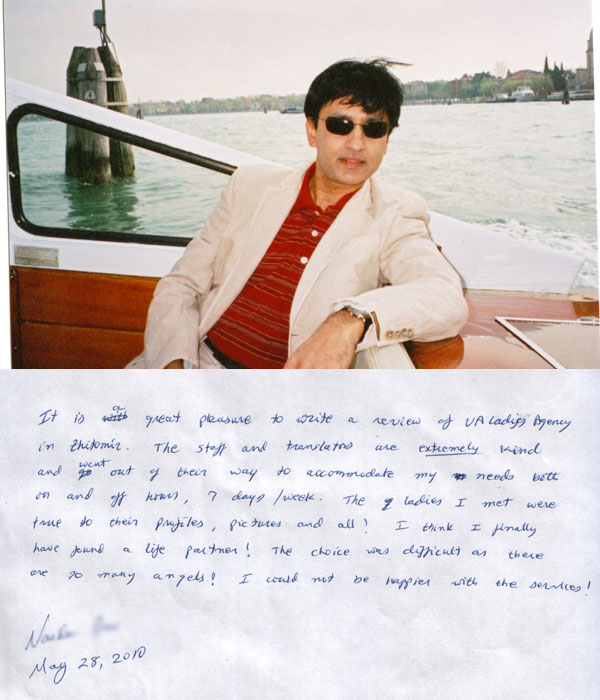 Trip to Zhitomir, May 2010
---
I had a great time visiting Kharkov
I had a great time visiting Kharkov, Ukraine through Ualadys. Everyone I met from the agency were both professional and pleasant. They were there to meet me when I arrived, took care to make sure I was comfortable and happy, and showed me their wonderful city. Within three days I felt like I knew the center of the city very well. There were a lot of nice places to visit and there were great restaurants. My particular favorite was a local brewery. I was more then satisfied with the experience.
Sincerely Scott K. May 16th 2010
---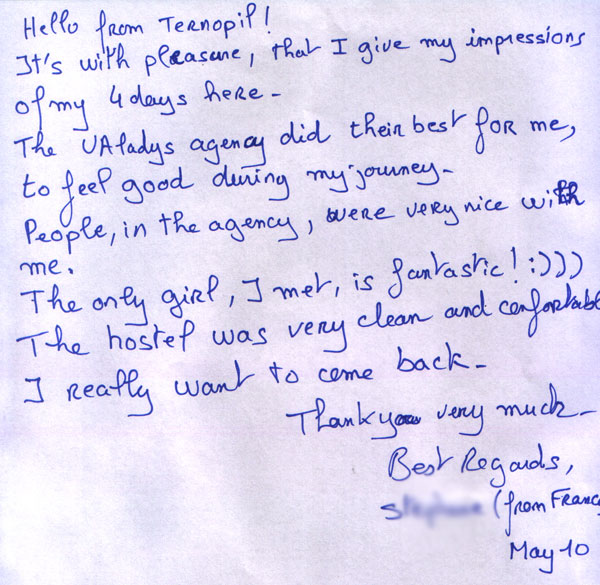 Trip to Ternopil, May 2010
---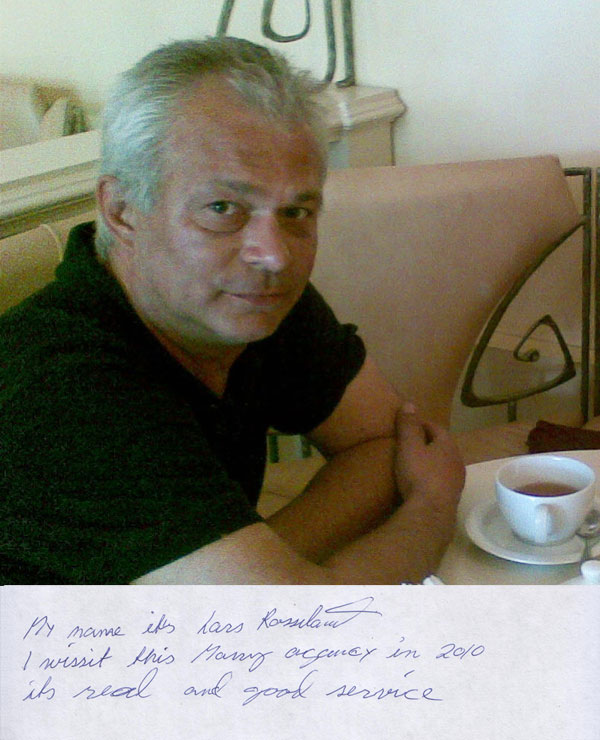 Lars S. from Norway, trip to Zhitomir, May 2010
---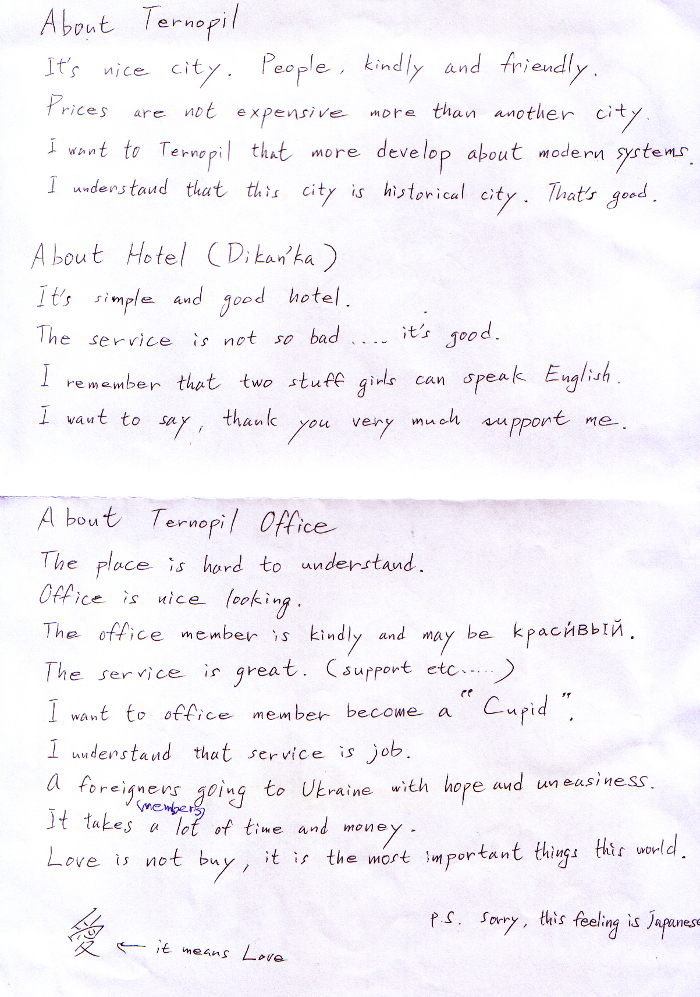 Mahito I. Trip to Ternopil, May 2010
---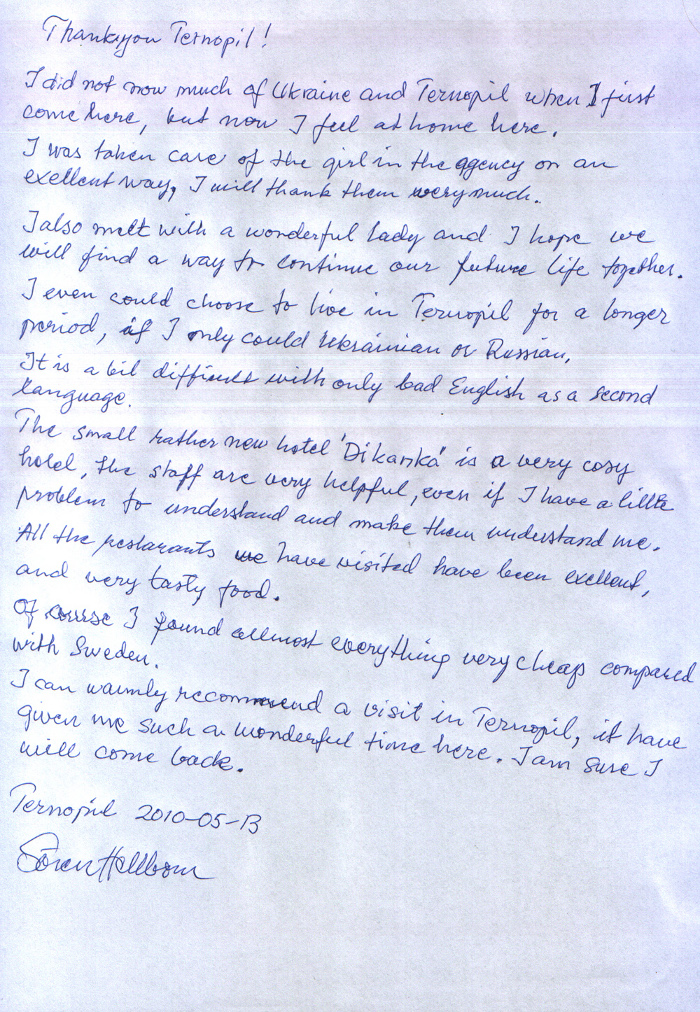 Soren H Trip to Ternopil, May 2010
---
Scott K. Trip to Chernigov, May 2010
---
Adrian H. Trip to Zhitomir, April 2010
---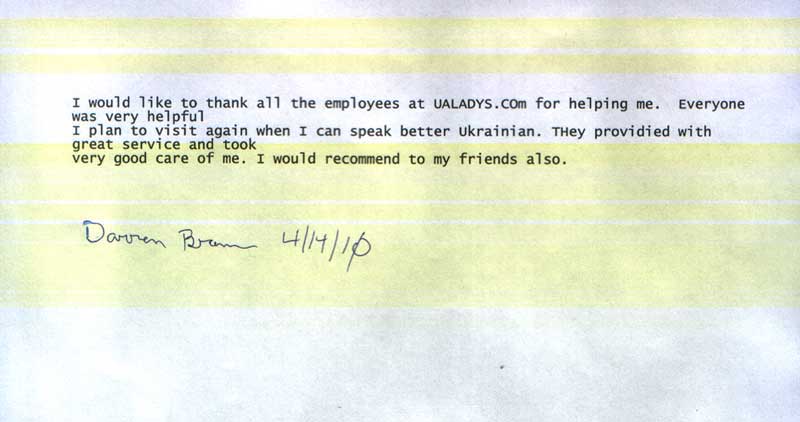 Darren B.
April, 2010
trip to Ternopil
---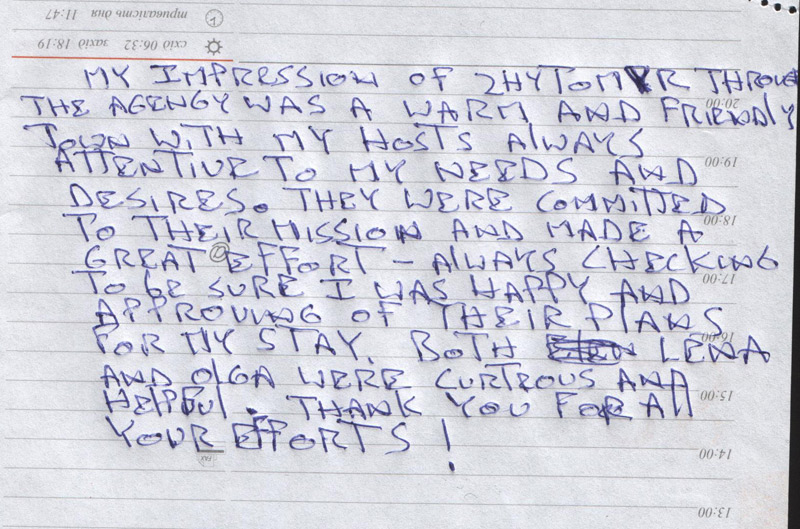 Mart, 2010
trip to Zhitomir
---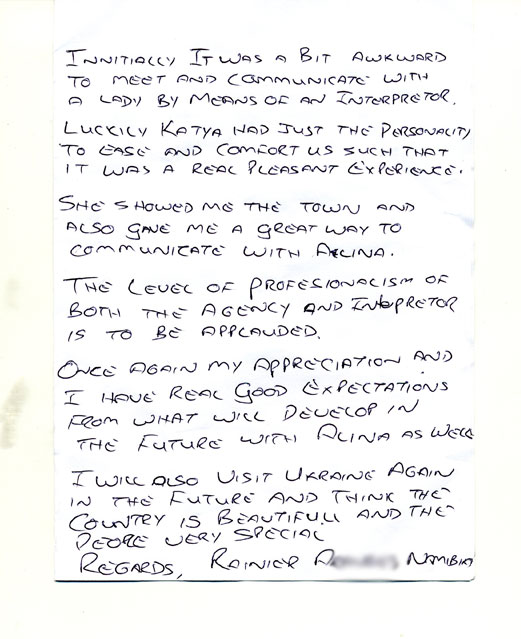 November, 2009
Trip to Kharkov
---

November, 2009
Trip to Kharkov
---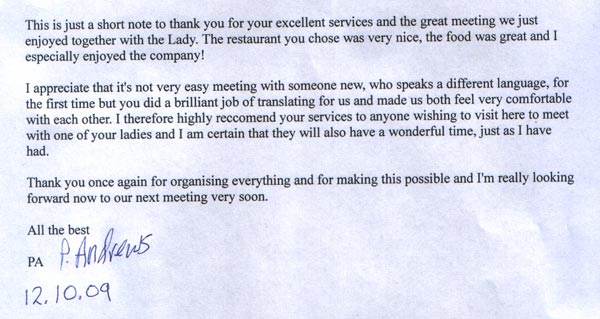 October, 2009
Trip to Zhitomir
---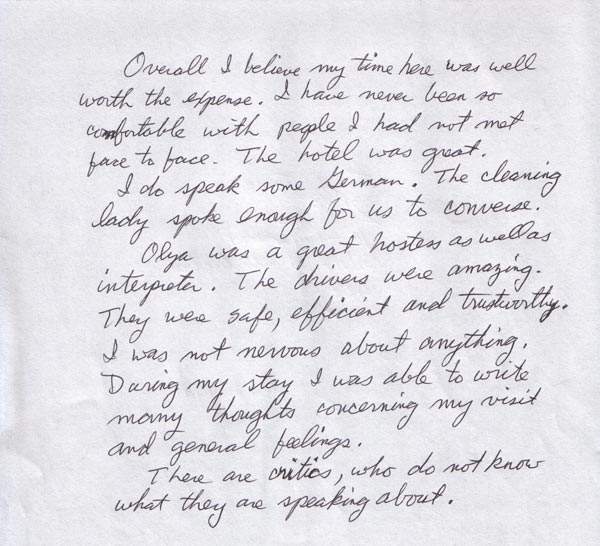 September, 2009
Trip to Zhitomir
---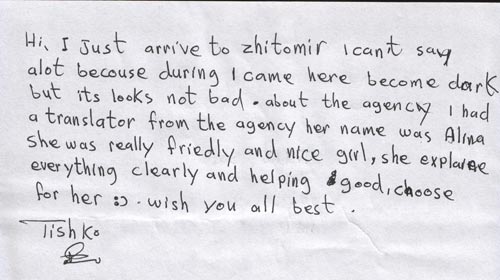 September, 2009
Trip to Zhitomir
---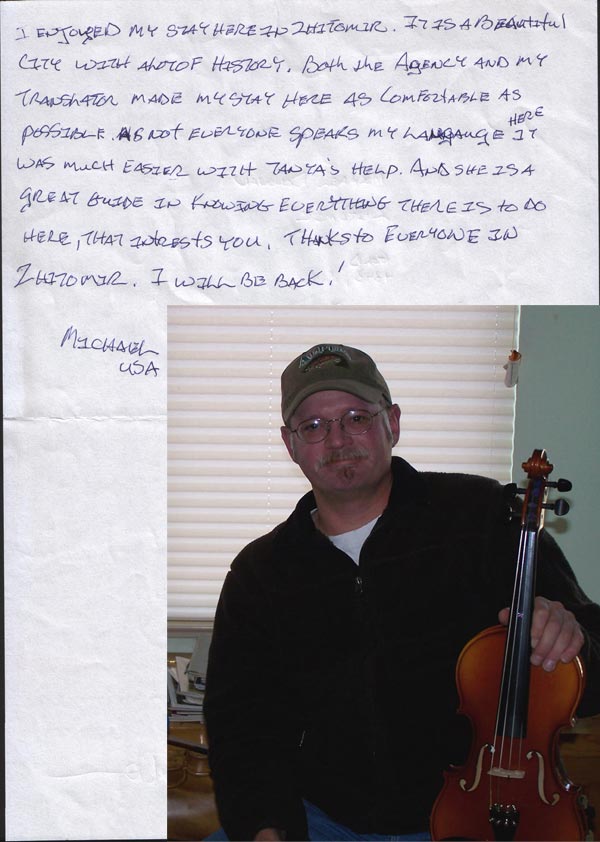 September, 2009
Trip to Zhitomir
---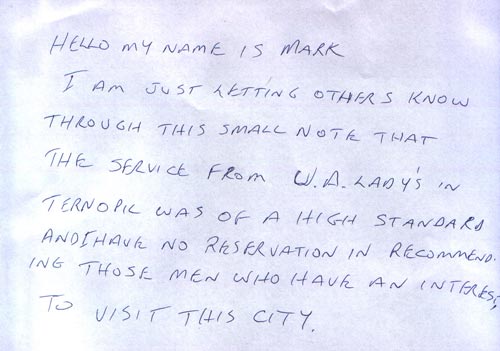 September, 2009
Trip to Ternopil
---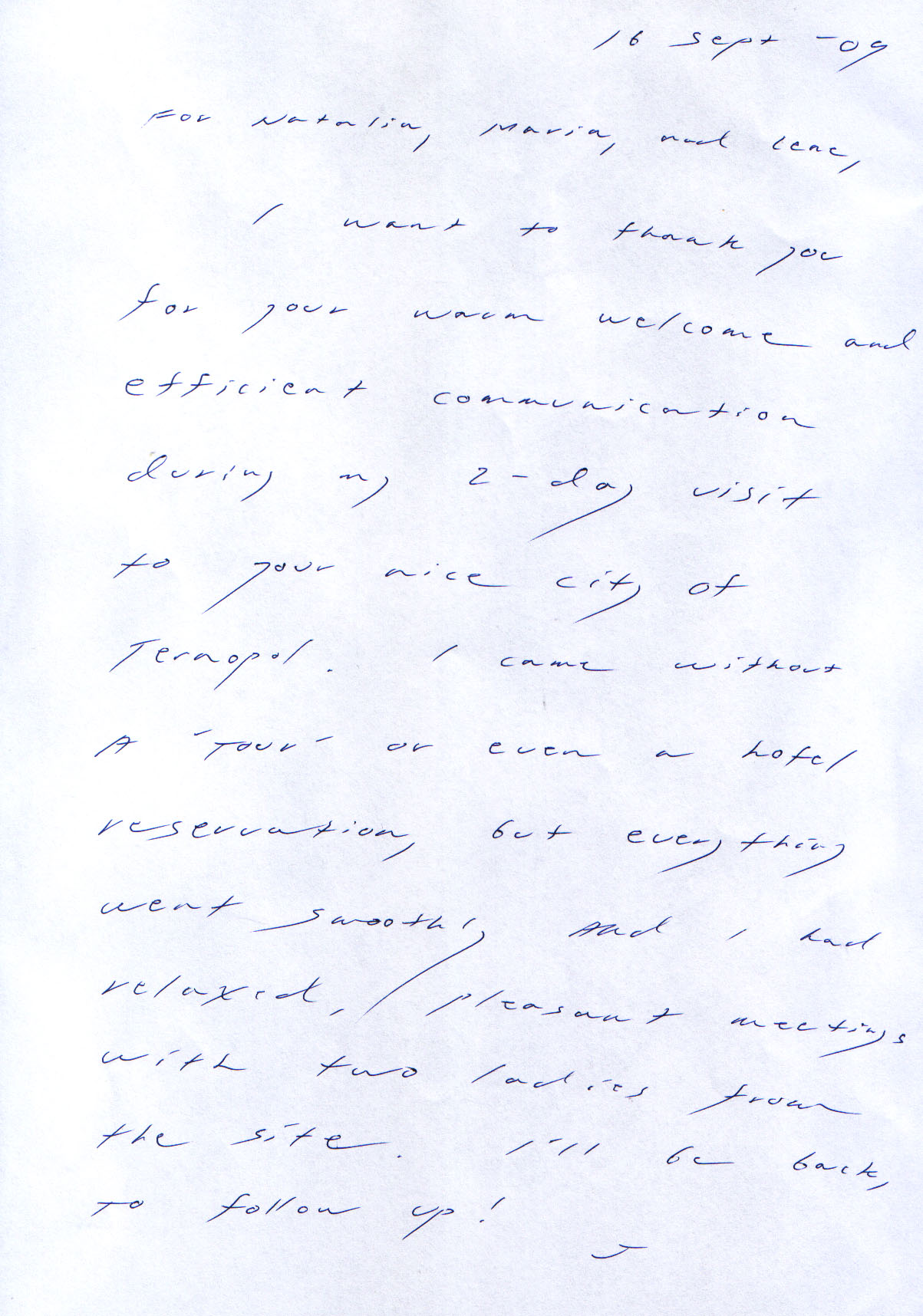 September, 2009
Trip to Ternopil
---
August, 2009
Trip to Zhitomir
---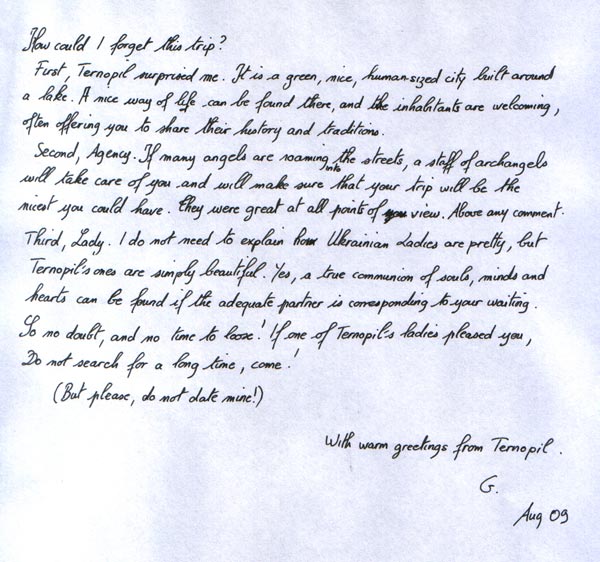 Trip to Ternopil
---
Ian D. / August, 2009
Trip to Zhitomir
---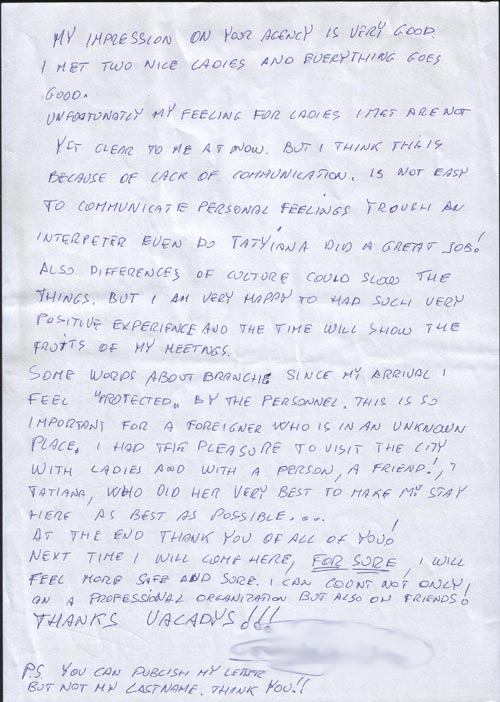 Stefano /August 2009,
Zhitomir and Berdichev
---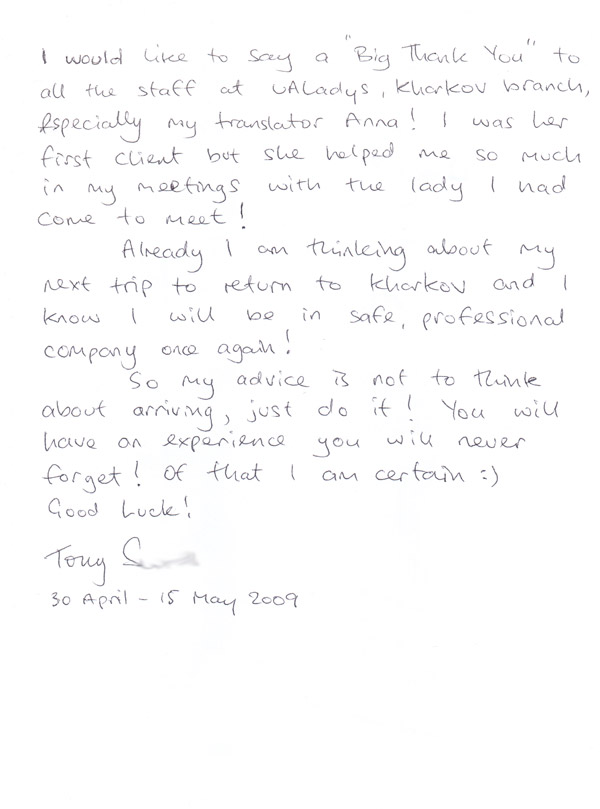 Tony S./ May, 2009
Trip to Kharkov
---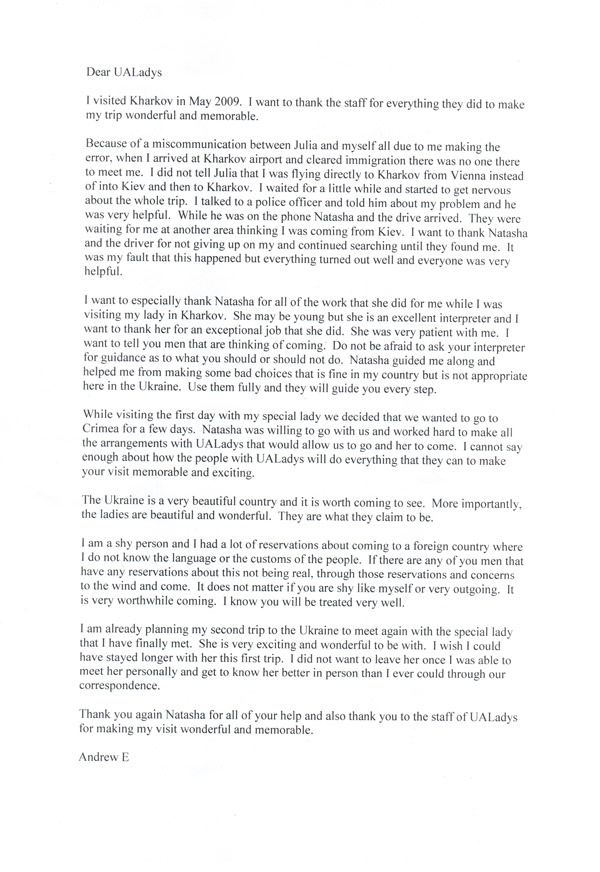 Andrew E./ May, 2009
Trip to Kharkov
---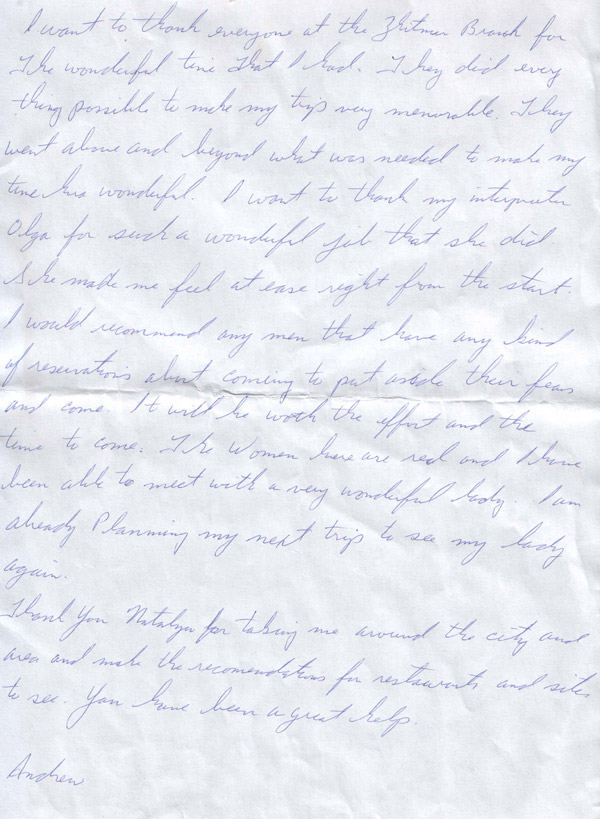 Andrew E./ May, 2009
Trip to Zhitomir
---
Trip to Odessa
I just got back from my European trip including the 5 days scheduled with the UA Ladys agency in Odessa. The director of the branch office, Inna, was there from beginning to end. She was there on time to greet me at the airport, even scheduled a trip to a Western Style ranch (in the Ukraine!!!!) had a blast. Even took time to ride with me to the airport when I left. If and when I decide to ever go back to Odessa I certainly would not hesitate knowing I was in very capable hands!!
Kurt B./ May, 2009
Trip to Odessa
---
Wally R. / April, 2009
Trip to Zhitomir
---
Grant N. / April, 2009
Trip to Zhitomir
---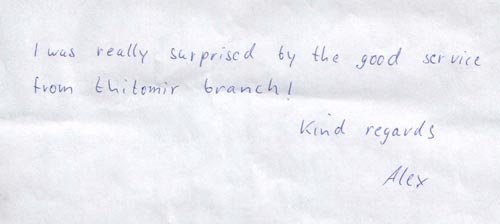 Alex H., April 2009,
Zhitomir
---
Dear UA Ladys (especially the Nikolaev branch).
Having just returned from what I believe to be a successful trip to meet Natalia the beautiful Lady from Nikolaev that I have been communicating with for several months, I say successful because we are planning my next trip which I hope to be in September to help Natalia celebrate her birthday, and I had the pleasure of meeting Alla her daughter which is a probably a good sign when you are introduced to family members (as long as you don?t mess it up). I have had time to pause & reflect upon my adventure and the service that UA Ladys provide.

Without question the staff at UA Ladys treated me with respect, thoughtfulness & kindness, from the humble beginnings of trying to arrange my reasonably priced trip right through to the final day, and my return to the UK, for which I will forever thank them, they are without a doubt your greatest asset. I have to say that Kate my interpreter went well beyond her duties, and spent much of her own time with me walking for hours (well it seemed like hours) showing me the sights, and making sure I was fed properly, Thank you very much lovely girl, for any of you younger guys out there if you ever got to meet her Kate would be a keeper, needless to say Kate & I became great friends and will keep in touch with each other. Not to forget Irena & Vica for there great help also, Thank you, and Sergie (forgive the spelling) who showed me very quickly around Odessa before my flight home.

Any guys out there that are hesitating about going to the Ukraine ?GET OFF THE FENCE? there are many kind, loving & genuine Ladies out there looking for someone to love and care for, but if you go please remember these ladies deserve to be treated with respect & kindness (be a gentleman).

Take care Ladies, I hope to see you all again soon
Kim M./ April, 2009
Trip to Nikolaev
---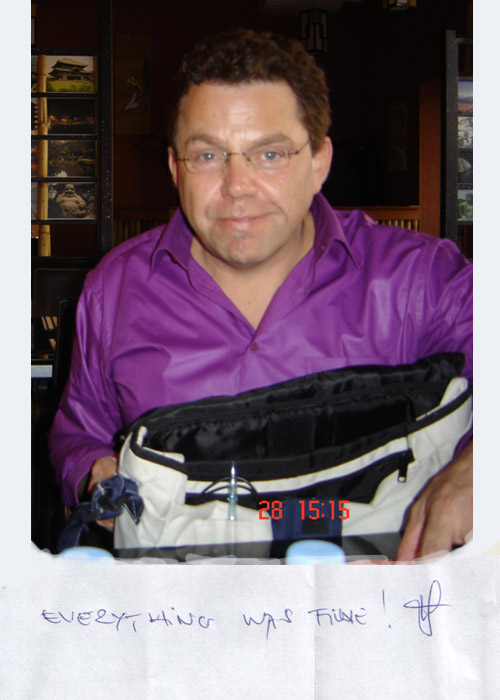 Kurt S./ April, 2009
Trip to Zhitomir
---
I have visited the Chernigov branch
I have visited the Chernigov branch of UA Ladys on 2-3 March 2009, in order to meet with a lady with whom I had been corresponding for nearly 3 months. Everything went well according to the plans and the meeting procedure that had been put in place by the agency. I really met with the lady with whom I had been corresponding. Of course, no agency will ever give you any guarantee as to the success of your relationship. This is common sense. But, as to the objective/mission of the agency, which is to give you an introduction to a real Ukrainian lady, I can say from my experience that it has been fully fulfilled.
Vincent M. / March, 2009
---
After the first trip to Ukraine
After the first trip to Ukraine and meeting 3 different ladies in 2 different cities of Zhitomir and Kharkov in 2 weeks time I met the lady of my dreams.I was quite unusual for me because we both felt the same about the other . I guess you could say that we were pleased with each other .To make a long story short I have traveled to Ukraine 5 more times since the first visit in July 2006 to see Nina .At Easter time this year 2009 we will have been engaged for a future marriage for 2 years now .I purposed to Nina at Easter time in 2007.We are currently working on the Visa paperwork to get her into the USA .Why travel so many times you may ask ? How else am I going to get to know a person well before I spend the rest of my life with her.I don't want to rush anything now that I found her.On my last trip it was just the two of us together on a vacation in the beautiful port city of Odessa for 8 days .I very much enjoyed my time there in such a beautiful place during the Ukrainian Independence Day celebrations in late August.Guys , The office people at the Kharkov branch were great and would help me with any problems that came up to the best of their abilities .I am a very picky person and if I didn't like something I would say so .This agency is really worth using .They are a very professional group .Also staying at the Kharkov Hotel is worth the money.It is next to the agency and it is in the center of the city. You can get flights from Kiev to Kharkov and back if you want to save some travel time . Good luck guys and give it a try ;you will like it.

Sincerely,
Jim A. USA
March, 2009
---
Hartmut M. / March, 2009
Trip to Zhitomir
---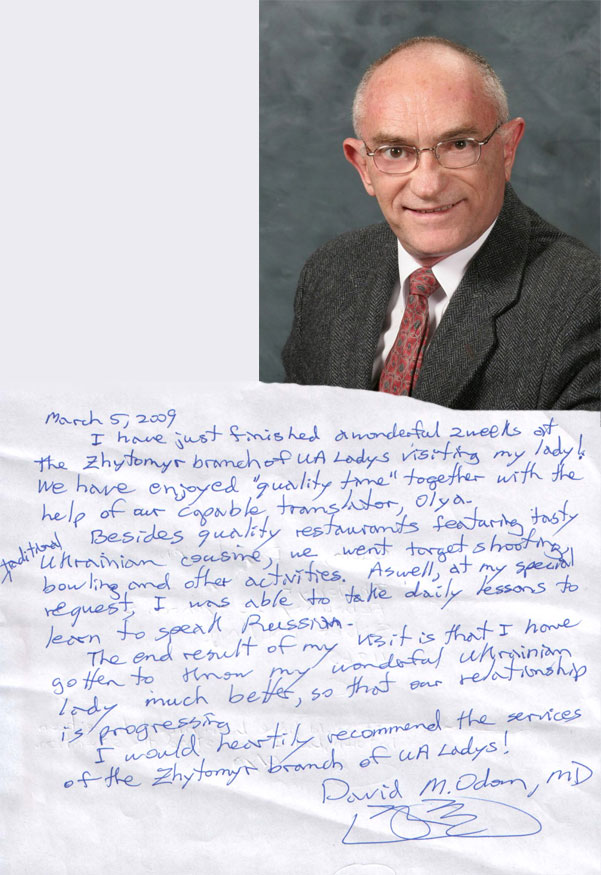 David O./ March, 2009
Trip to Zhitomir
---
Well, I asked that special lady to marry me.
Well, I asked that special lady to marry me. I showed her the ring on my second visit, and her eyes lit up like a Roman Candle. We ended up going to a concert with another couple from the agency, just by luck, mind you. I wish Tony and his special lady well, too. We all had a marvelous time in Kharkov. Even if you don't find that special lady on your first trip, enjoy what the city has to offer. There are more things to do without having to spend a lot of cash, and you will truly make some memories that will last you a lifetime. If you go in the winter you can ice skate with your lady in the Square, and if you go in the summer, you can enjoy go-karts there, as well. Or, go for a walk in the Shcevschenko gardens past the Mirror Monument. Do it at night so you can see the colors in their fullest. Who knows what will be showing at the Opera House? There are so many activites in the Ukraine that you will have absolutely NO TROUBLE finding a great place to take your date. I have just this one word of caution, though. Be prepared to leave your heart behind with someone very special. I promise you will be a better man for having met your lady in person.
Mike Y./ February, 2009
---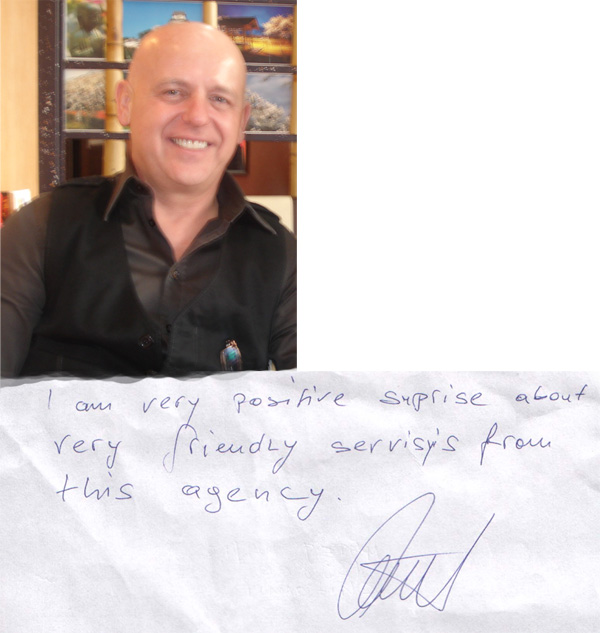 Matej M./ February, 2009
Trip to Zhitomir
---
OK, guys, it's time to swallow your fears and go to the Ukraine!
I'm headed back there on February 12th again to see my lovely Vica. I have a feeling that I will be popping a certain question to her, too. I have never been so lonely as I have since I left Kharkov after my first visit, and I know that my heart is right by telling me that Vica and I belong together as a couple. Everyone who knows me here in Texas has seen how my moods have changed from loneliness to joyous since that first kiss under the arches of the Mirror Monument. Ask the agency to give you my number and I'll tell you just how life-changing a visit can be. If you know how to play on the Internet you can get a round-trip ticket for less than two NFL tickets, and you will have a much better time. Trust me on this one, fellas!
Mike Y./ January, 2009
---
Arnaud V. /16 February, 2009
---
Tim M. /12 February, 2009
---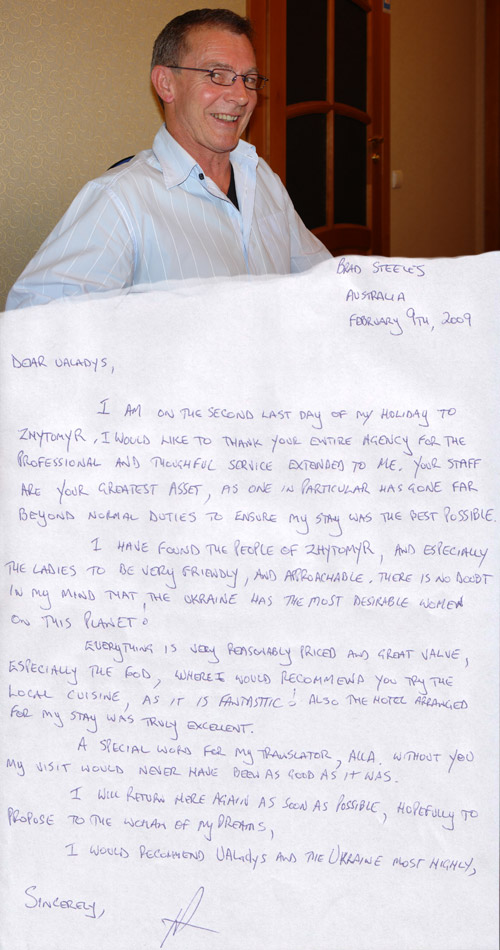 Brad S./05 February, 2009
---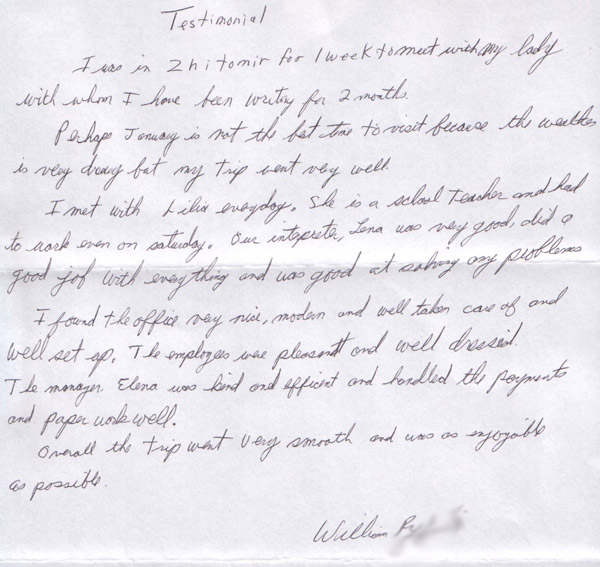 Bill R./29 January, 2009
---
To the staff of UALadys thank you very much.
I arrived in Kharkov on Oct 16 and went directly to the agency where I met Nataly. She contacted the lady I went there to meet and Ira was willing to meet that same day. I stayed in Kharkov until Dec 22. I also met Victoria and between Nataly and Victoria they made my stay in Kharkov a very pleasant experience. They were very attentive, supportive, helpful and at all times very professional in the art of communications between myself and Ira. They were also assertive when they needed to be.

Ira is a wonderful woman and she made my stay very comfortable. I met with Ira almost every day and she showed me what a wonderful country Ukraine is. We went to some very interesting places, she was kind enough to take time off work and spend as much time with me as she could. Both Nataly and Victoria were always willing to offer their help. They attended visits to monasteries, museums, dinners out, excursions to the country and nightclubs. There help with interpretations was wonderful. They were also there when I met Ira?s mother at her home for dinner. I feel that I made some wonderful friends at UALadys and I will never forget them and I intend to remain in touch.

I personally recommend this agency to anyone who wishes to meet the beautiful women of Ukraine. I also recommend Nataly and Vitoria and I am proud to call them my friends.
Jon H / January, 2009
---
---
What else can I say
What else can I say, other than you NEED to be here AS SOON AS POSSIBLE! I waited 4 years before I got the courage up, and I regret it more than ever now! I don't know how I'm going to top the first date. We were going to go to the Organ Recital Hall to enjoy a concert when we passed the Opera House, where the National Ballet of Georgia was performing. We didn't expect to get tickets, but we lucked out and got the last two tickets. We saw the "sold out" sign, but asked anyway. The tickets were reserved for someone else who failed to show, so the lady in the box office sold them to us. What a great show. Dinner afterward was wonderful, and we walked back through the park, where we shared our first kiss under the arches of the Kharkov Memorial. Believe me, you need to see the place, meet the people, and then meet the ladies at the agency. You won't be disappointed. I guarantee it!Oh, and if you intend to try the borscht, don't wear a white shirt. Trust me.
Mike Y./November, 15 2008
---
Dear Julia
Dear Julia firstly I want to thank you for the excellent service of you agency;

I have enjoyed my staying in Kherson from 7 September up to 13 September I was astonished how excellent it looks after all I was was well received on the airport in Odessa by Maxim. Maxim took me to Kherson and I greatly enjoyed the trip by car from Odessa to Kherson.

Once arrived in Kherson I have been met by Oksana in the hotel they me everything have excellent explained.

I stayed in an excellent hotel staff were very pleasant and helpfully it more friends have become this way splendid there were the time.

I have had an excellent week in Kherson I the ladies have met which I want meet.

Unfortunately the lady I like the most was not available for meetings during the daytime, but we met every evening. During the daytime I had opportunity to go sightseeing with my interpreter Svetlana, she did a good job showing me around Kherson.

My thanks goes out to Svetlana thanks for the excellent time there and towards the agency in Kherson Oksana and Maxim and Olga thanks for your excellent to look and Oksana thank choice of the hotel for you were excellent there it is for recurrence subject.

There are so many beautiful ladies in Kherson, and I have found my favorite one and hope to come back to Kherson soon!
I miss my lady now already

Kind regards Kees F. /October, 15 2008
---
UA Lady's This is my second Testimonial in as many years!
However two of the cities are no longer with UA Lady's, The service is very much still the same. GOOD!I would like to say that your branch in Kherson is one of the most hospitable branches I have been to within this organization. My visit was for three weeks and the manager showed concern of my satisfaction to meet a lady to match my personality. I originally came to visit Kherson by invitation of one lady however that match did not work out. So I decided to meet with another lady and it too did not work out. However the third meeting with yet another lady did work out and we are in communication with one another. I spent some time with the manager and her husband and enjoyed the company. What little time I was able to spend with this lady that I was able to connect with, was fun and enlightening as well. I am currently in the process in making new plans to meet with this lady when she is able to take some time off. Only then will we be able to make further plans as to what direction we want to take our relationship to. Oksana, Maxim!! You made my visit very rewarding!! I have new and good friends in you! I wish to thank the staff, manager and ladies of Kherson for a very memorable visit to your city. I look forward to future visits to Ukraine.Much regards,Paul H.California, USA
Paul H. /02 October, 2008
---
Priwjet !!
I am back now from the Ukraine, i saw the most beautiful woman in my life and since this days everything (!!!) changed for me. My mind is full and my heart is full of soo many feelings. I am already now tell the days until i go back to my "dreamwoman" in September/October.A few words to the team in Kherson. Oksana Maxim : Really great perons with soo many help for me. > SPASIBO < But now the most importend : Valery join we like a translater in this week. But from the first moment i don't saw a translator. No never. > I saw feel always a great wonderful open friend near me and it helps mee soo soo much in these days. "Valery, it was a great time and many many thanks for your advise, support, help and much more". We see us again when i am back in September/October. Best regards , Gerd
Gerd W. /July, 26 2008
---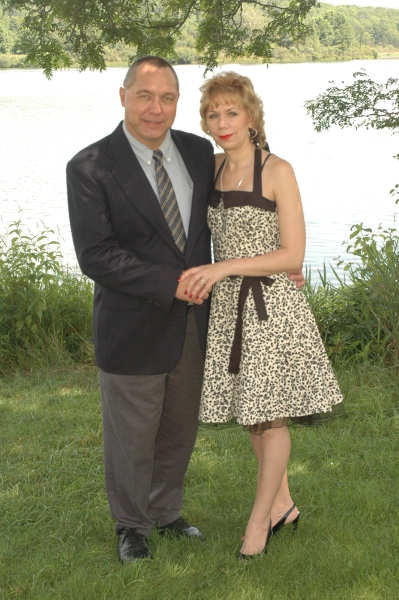 Alina,
Many thanks to you and UA Ladies for bringing Natali and I together.
From the very first letter we both knew we were meant to be together,even though we were so far away.
The two weeks in Zhitomir we spent in Ocober of 2007 only strengthened what we all ready knew,that our love was so very strong.
As of the 20th of June 2008,after bringing Natali back to Pennsylvania(USA),we are now very happily married and enjoy every second we spend together.
Love has NO LIMITS or BOUNDARIES,as Natali and I have found out.

Thanks again to you all at UA Ladies(Zhitomir) and would highly recommend your services to anyone.
---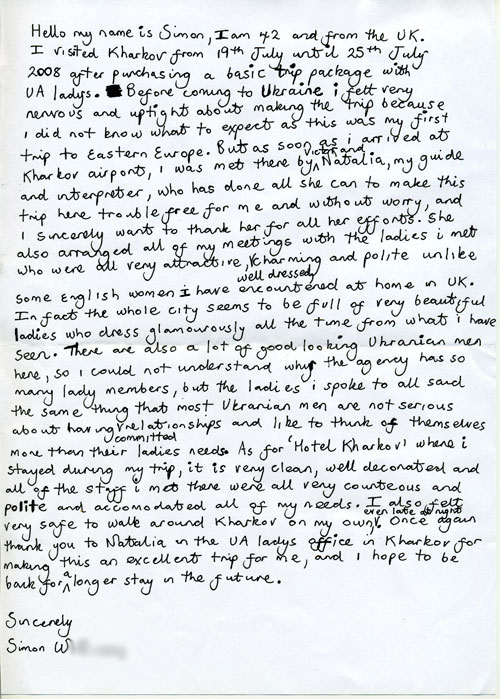 ---
Dear Julia,
I am not sure that this is the most appropriate place for these comments but I could not think of another way to do it.....

I wanted to thank your staff at the Zhitomir office, through this letter to you, following my recent trip to meet Valyusha. Yuri and Natalya were very kind and helpful to me in spite of the horrors of the Kiev traffic they had to endure on Monday.

During my stay in Zhitomir, Alina made me feel very welcome and made sure I was not lonely when I discovered that Valyusha could only manage to see me for dinner each evening because of her work commitments. Alina helped me to shop for presents for my children and to buy some flowers for Valyusha. Please send my thanks and appreciation for her professionalism.

Kind regards
John /July, 18 2008
Trip to Zhitomir
---
Not really a question
Not really a question, more to give an idea as to the quality of the trip. I wish to say a very big thank you. My trip was a great success, mainly due to the work Oksana put in to making me feel very comfortable and supported. I met a wonderful lady and, whilst it is early days yet, we spend a fabulous 5 days together. I am hoping that I can organise a visit for her to England next year. So, thank you UA Ladies, I would have no hesitation recommending yuor services.
Richard L. /July, 03 2008

---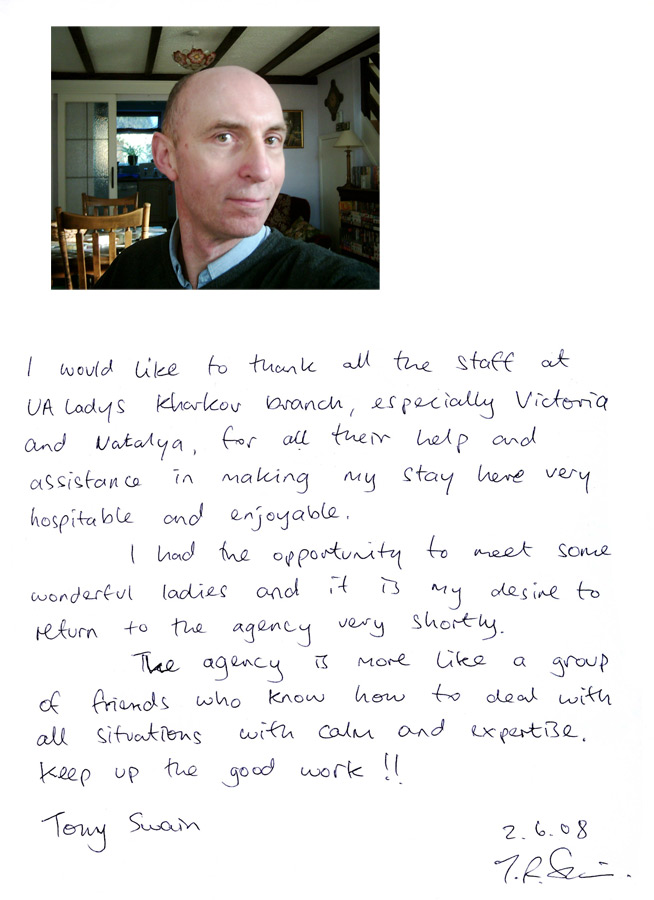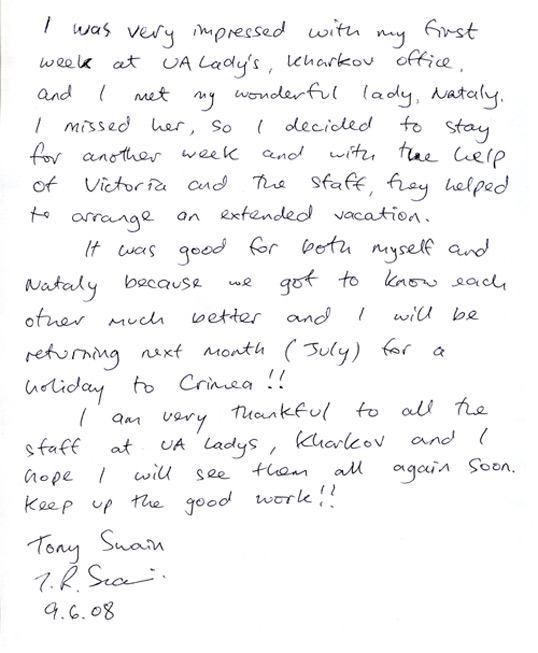 ---
So. Here you are on this site.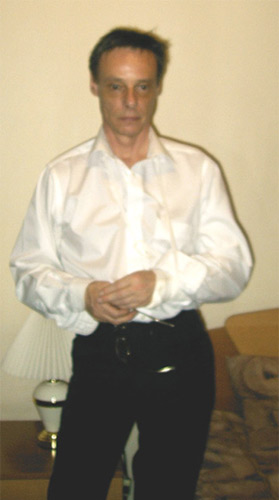 You have browsed through some pictures, and you have read some profiles. You may even have written some letters. You will have some preconceptions about Ukraine, and its people.
Let me put you in the picture. I am as cynical as the next man. But here is the bottom line.
There is one piece of advice only
Get on a plane, as soon as you can. I came here, early in March 2008, and the only thing that I can say is Kharkov is just the most brilliant place to be. I don't want to leave.
I had been writing to one lady for just over 5 months, and decided to visit. To cut a long story short, it didn't work out for us, but that was probably my fault. I sincerely wish her the best for the future, and hopes she finds what she is looking for.
I have to tell you about the women here. They are just awesome. I have never seen so many beautiful women in one place. They are just stunning, elegant, smartly dressed, with poise and grace. They just completely outclass any other women I've seen.
Go and stand at the Metro entrance near Freedom square for half of one hour. You will have your breath taken away. I promise you!
So then you get to meet the people at the agency.
I can tell you that they are the best. Always, they have gone out of their way to help me with all kinds of things, and made me feel comfortable and welcome.
Special thank you to Victoria, my translator. She is charming, intelligent, and just a little sassy. But always professional.
And Svetlana. What a lovely woman... made me cups of tea and coffee, and was just such a joy.
In summary; I have met so many great people here. Far too many to list thanks for. Oh yes... Jenya ;) I had a chance meeting with you. You are stunning, and lovely! You can be sure that I will write to you. I wish I could have spent more time with you :)
So then. Not so cynical now Graham eh?
Thank you everyone at UALadys for opening my eyes. And thanks also those at Hotel Kharkiv for being brilliant.
Just one last thing
I'M COMING BACK SOON. PUT THE KETTLE ON :) but next time :) I'm not breaking any bones
Graham W/March, 15 2008
Trip to Kharkov
---
To all members and all who want to be meembers!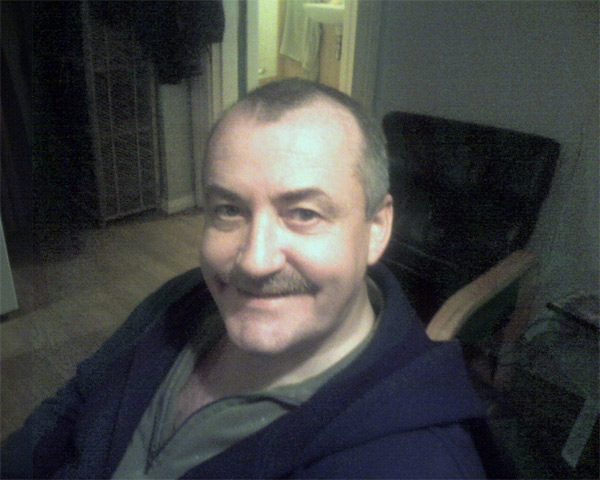 To all members and all who want to be meembers! I have been in Ukraine - Zhitomyr 3 times to visit a lady who has taken my hart... I don't know how this will end yet, but I hope for the best! All my trips have been very nice because of the staff at the office in Zhitomyr.. Every day was a new experience! I have never met such a hospitality anywhere else, and I have been around before... A special thanks to Alina who spend so much of her private time serving me ? unbelievable!!! Thanks to Jura who welcome me to his home New Year!! Thinking of this entire kind people gives me a lump in my troth!! There are no words! Thanks to all who had done this possible for me.. Even if there will be no lady from Ukraine in my life, I will remember for the rest of my life! I have to mention that I am planning to see more of Ukraine, and I am planning to spend my vacation there! It is a fascinating country with much beauty!! I wish you all the best and to find a real Princess from Ukraine (There is only Princesses in Ukraine)!
John W. A./April,08 2008
Trip to Zhitomyr
---
I just want to say that FROM TOP TO BOTTOM -- UALADYS IS A FIRST CLASS OPERATION!!!
Dear Shake: First before I begin, I want you to please respond to this E-mail and give me the CORRECT spelling of your full name. OK? Second, I sent you a copy of the E-mail I sent to Victor at UALADYS with my apology and other matters. Did you receive it?
Now, onto the testimonial!!!

I just want to say that FROM TOP TO BOTTOM -- UALADYS IS A FIRST CLASS OPERATION!!! The Big question for all the men out there in the USA and in other countries is: Can you find the woman of your dreams and will she be "The Total Package" Woman on UALADYS? For me, the answer is YES, YES, YES!!! I JOINED UALADYS ON 8/1/07 AND PUT UP MY PICTURE-- WITHIN DAYS, THESE BEAUTIFUL YOUNG WOMEN WITH MODEL LOOKS, MANY IN COLLEGE OR ALREADY WITH DEGREES AND WITH CAREERS WERE WRITING ME AS A POTENTIAL SUITOR!!! Let me tell you guys, I consider myself at 47 years old --NO AMERICAN BEAUTY ROSE OR GOD'S GIFT TO WOMEN!!! And, I could stand to loose some weight too!!! But, these women were sincere, honest and REALLY LOOKING FOR MARRIAGE OUTSIDE OF THEIR COUNTRY OF UKRAINE AND IN MY CASE ARGENTINA. I had personally corresponded with over 50+ women until "N DAY' came on Friday, 11/30/07 -- four months since I put up my profile on the site with a picture -- that is KEY GUYS - PUT A TOTALLY FREE PROFILE UP WITH YOUR FACE PICTURE. "N DAY" stands for me as Nadya Day -- the day I met this BEAUTIFUL HEAVENLY ANGEL FROM KHARKOV WHO JUST HAPPENS TO BE AN ATTORNEY/LAWYER AND IS 29 YEARS OLD, NEVER BEEN MARRIED AND NO CHILDREN!!! WE INSTANTLY HIT IT OFF AND BY TUESDAY, DECEMBER 4, 2007 HAD FALLEN IN LOVE AND WERE READY FOR BETTER THINGS IN OUR RELATIONSHIP!!!
Are these women for real? Yes!!! Do you DESERVE A SOULMATE WITH OLD FASHIONED VALUES BUT AT THE SAME TIME SAVVY TO THE WORLD? YES YOU DO MEN; AND UALADYS HAS SO MANY OF THEM IT ISN'T A MATTER OF IF OR CAN I FIND A BEAUTIFUL SOULMATE -- RATHER IT IS WHOM OF THESE BEAUTIES DO I ELIMINATE BECAUSE I CAN'T MARRY A HAREM FROM THE UKRAINE, ARGENTINA OR RUSSIA!!!! THAT I CAN ASSURE IS THE ONLY AND I MEAN ONLY PROBLEM YOU WILL HAVE AT UALADYS -- PICKING YOUR SOULMATE FROM SO MANY IDEAL CANDIDATES. I narrowed my search to 5 lovely women in the Ukraine and Argentina until MY NADYA stepped into my life!!!
I have experience with dealing with the "Competition" from other International Marriage Agencies and Singles sites including some with women from the USA, but NONE OF THE COMPETITION CAN HOLD A CANDLE TO UALADYS:

BEAUTIFUL, EDUCATED WOMEN THAT AREN'T ASKING YOU FOR A THING EXCEPT TO BE THEIR FRIEND AND POTENTIAL SOULMATE -- THEY HAVE NEVER ASKED ME FOR ANY MONEY OR GIFTS -- THE ONLY THING THE WOMEN EVER ASKED OF ME WAS COULD I SOMEDAY POSSIBLY COME TO THEIR COUNTRY AND VISIT THEM IN PERSON? Well men, don't you want to meet your potential life partner and soulmate someday?
PROFESSIONAL, FRIENDLY AND CUSTOMER SERVICE ORIENTED STAFF -- Guys, these are the "Cream of the Crop" Associates/Employees at UALADYS!!!
Technology savvy Web Site -- Guys, even if you know very little about computers, you can maneuver around at UALADYS. The Web Site is user friendly and the cameras are usually "ON" so you can see what is going on there.
Reasonable Prices - At or less than $3/Letter you write and get interpreted to the lady's foreign language, and all the letters the different women can write sent to you in your native language for free!!! Other items are very reasonably priced and IF YOU CHOOSE to buy a gift for the lady of your choice, they just rave about everything from flowers to NICE GOLD JEWELRY!!!
Packaged Trips - These I have seen the testimonials about!!! I will be going on a UALADYS TRIP IN OCTOBER 2008 TO SEE MY NADYA AND WILL GIVE YOU THE GOOD, THE BAD AND THE UGLY OF THAT AFTER I GO SEE FOR MYSELF.
Other Items - There is so very much to comment on about UALADYS -- Suffice to say two things -- I. That using an old sports terminology -- The competition couldn't hold UALADYS Jock Strap on the playing field!! II. There seem to be a bunch of "OLD WISE JEDI MASTERS" LIKE YODA USING THE "FORCE" AT EVERY TURN TO MAKE THE SCIENCE (WEB BASED TECHNOLOGY) MIX WITH THE ART OF LOVE TO ROCK YOUR WORLD AND FIND YOU YOUR LIFE PARTNER/SOULMATE!!

Why did I write such a glowing Review of UALADYS? I am completely unpaid for this and hold a Bachelor of Business Administration Degree (BBA) and Masters of Business Administration (MBA) and search far and wide for the kind of businesses that UALADYS run's -- Top Notched from head to toe and outshining the competition the "Old Fashioned way" - UALADYS EARN'S IT AND THIS TESTIMONIAL!!!

31 March 2008
Trip to Kharkov

---

This agency is TOPS !

This agency is TOPS ! I've met the Girl of My Dreams ... I really want to thank all the ladies that have written to me , You are all so beautifull . I wish all of you the best .

Wayne F./08 March 2008


---

---

---

I want to say that UALADYS

I want to say that UALADYS is a great company. I had a great experience with them. They are not out to scam you, only to help you. The girls are very real! I have been writing to my special lady for a most a year now, we are engaged and have applied for the K-1 Visa, so we can get married. The Ukrainian people are very nice and will help you. I want to thank all the people in the Zhitomir Branch for all the help that I recieved. They really do a wonderful service and make you feel at home in there Country. Once again thank you for a wonderful trip.

Scot D. 14 February 2008
Trip to Zhitomir

My trip to Zhitomir

My trip to Zhitomir was the best 14 days I have had in my life. I met the woman of my dreams. I would have never thought that I would fly across the world to meet such a sweet, kind and caring person like Daria. She agree to become engaged to me. I could not be happier. She is the love of my life.When I was first planning my trip, I had reservation. To tell you the truth, I was afraid of being scammed. I was proven wrong! All of the Staff went beyond their duties. The Agency in Zhitomir for UALADYS is GREAT! There is not any scamming here at all!I am returning in February 2008. Once again, I want to thank everyone at UALADYS for a great trip!

Scot D. 7 January 2008
Trip to Zhitomir

---

I want to write the FIRST testimonal

I want to write the FIRST testimonal in 2008 :)))I just come back from a 6 days trip to Kharkov.(2.-7. January) And for the right girl i go also with this freezing wheather to the Ukraine :)))It was a real pleasure to have contact with the staff of this branch in Kharkov : All the girls are very nice, great contact, help for every situation and every question , also a very friendly driver ( nice car) who pick you up at the airport and bring you back.The team , special thanks to Victoria Natalia (amazing nice friendly girls !! > Spasibo <) Always a "helping hand" and a real good hot tea :-)The meeting with "my" lady(s) was a real surprising good experience. I see so many things and enjoy really every minute in this nice city and with the girl. The best start ever in a new year 2008 !Thanks again to the whole Kharkov team. I go back to Kharkov in the next months for sure !!!!!Best regards from the warmer Belgium :)) , GERD

2-7 January 2008
Trip to Kharkov

---

Hello to Everyone in the USA

Hello to Everyone in the USA, I have been on the UALADYS since about Christmas 2008. I have heard all kinds of stories and researched many derogitory things about this site. Bottom line, they are completely false and without merit. I came to Ukraine expecting a Total Scam. I got the complete reverse. These people are exactly who they say theyare. 100% Grade A Genuine Article. I have never met as nice a group of people in my life. I have learned enough Ukrainian to get by, but not enough to exist without help. The amazing thing is that many Ukrianians speak English. And so my whole trip came off without a hitch. The ladies are real, genuine, and very respectible. Personally, I could live in the Ukraine, it is one very beautiful place. Now back to the subject at hand.UALADYS(Kharkov) branch are totally honest, absolutely genuine, and some of the most helpful people I have ever had the extreme pleasure to meet. During my stay here, I met other Americans who live elsewhere in the world. I met Americans already married to Ukrianian women and they just could not stop telling me how outstanding their lives have become since getting married. I know that this is contrary to a particular web site that says thatUALADYS is a total fake. Well, he is just FLAT OUT WRONG! Nothing could be futher from the truth. I booked my flight with Aerosvit (Ukrianian Air Lines) and it was probably the greatest service I have every received from an airline. They even brought heated wipes to clean up with before landing in Kiev.Another thing about UALADYS is that they do not "Nickel and Dime you to death". You get a tremendous "Bang for your Buck". But they are inbusiness to make money, respect that point.My best advice to anyone coming to Ukraine, and Kharkov in particular is "Don't be a Bull in a China Shop." These ladys are every bit as respectible as your sister. Treat everyone with the utmost respect and you will have no problem. If you would like an example, I signed up for the "Guide / Interpreter Service". The Guides took me to a very good super market and even helped me shop withadvice about products. When you come to Ukraine, Peanut Butter and Jelly is not here, bring your own.Next, UALADYS follow the Internation Dating Law to the letter, so should you. When you dress to meet the lady for the first time, dress low key, so that you blend in with all the rest of the people. Don't be a loud mouthed American! Be humble, respectful, and above all be totally honest.In closing if anyone would like to pursue thissubject,there are many things I can tell you that will make your life and journey better. call me after 9:00 P.M. Eastern Time.Thanks,Carlin321 890 7730

Mountain Man. /30 January 2008
Trip to Kharkov

---