Testimonials
---
Dear Gentlemen, here we are happy to represent you the Testimonials of the customers who have found their soulmates with the help of the Marriage Making Agency. Here they express their opinion, experience and suggestions for those who are looking for a second half in another country and appreciation to the company and the staff.
---
---
Hello Alina,
It was very nice to meet you and your staff recently when I came to Zhytomyr to meet Tanya. I enjoyed the meeting very much and found your agency very professional and efficient in making the arrangements. I felt pleasantly reassured that yours is a very reputable and trustworthy agency and your office is very well run with many successful introductions. I thank you and your staff again for all your assistance. Best regards,
Russell Sydney,
AUSTRALIA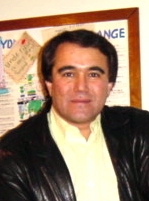 Russell M. from Australia, trip to Zhitomir, December 2011
---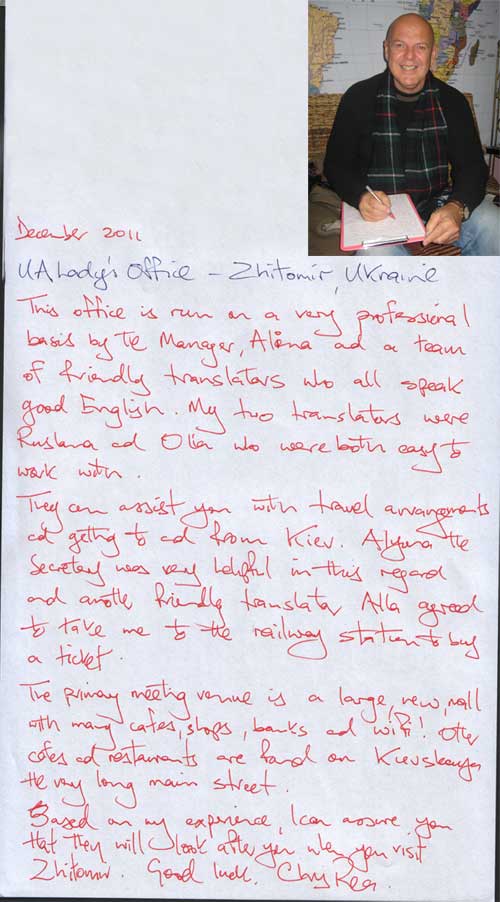 Christopher R. from Turkey, trip to Zhitomir, December 2011
---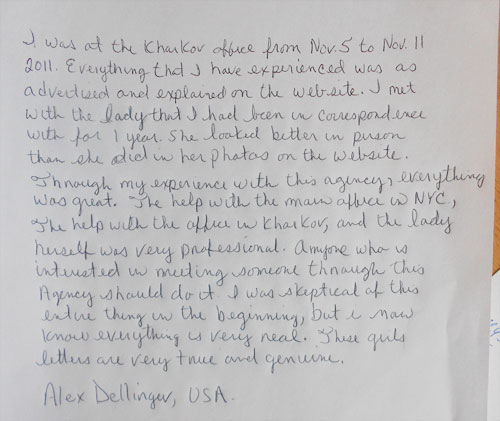 Alex D. from USA, trip to Kharkov, November 2011
---
Rene A. from Denmark, trip to Zhitomir, November 2011
---
Hello, I would like to say what a wondeful time I had in your country town of Kiev in August,sept,and so many lovely ladys, special thanks to your Agency and to my tour guide translate, Marina,, we went every where in kiev for the 2 weeks that I was there evey day was so interesting,,thanks ,, so helpful nothing was to much for marina to make my trip so wonderful to meet my future lady)) if you are thinking of coming to kiev to meet your future lady,,don't wait,to long,,,you will have the best time of your life,for sure,, once again special thanks to the agency= UALADYS))
Jason W. from Australia,, trip to Kiev, October 2011
---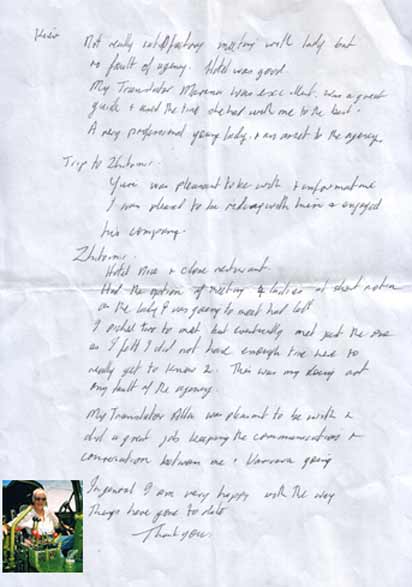 Hugh J. from New Zealand,, trip to Zhitomir and Kiev, October 2011
---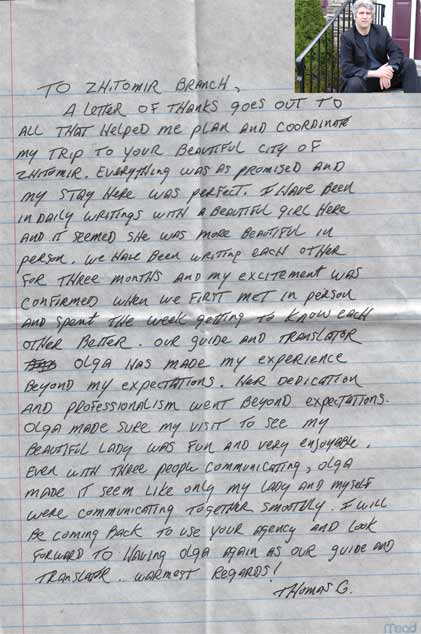 Thomas G. from USA, trip to Zhitomir, October 2011
---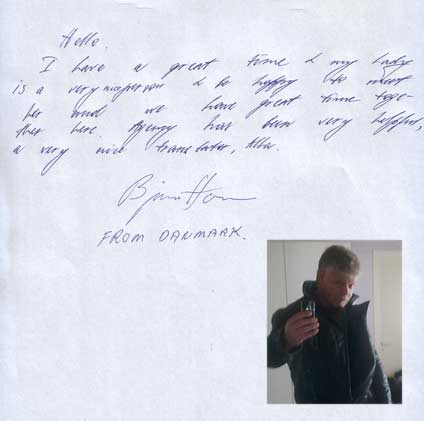 Bjarne H. From Denmark, trip to Zhitomir, September 2011
---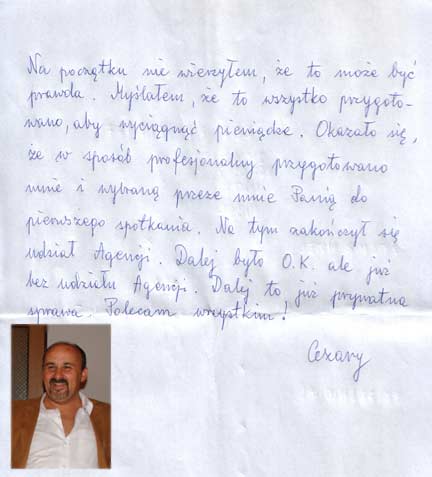 Cezary S. from Poland, trip to Zhitomir, September 2011
---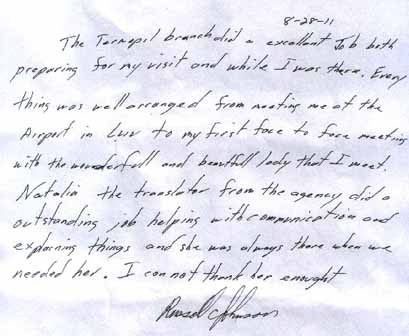 Russel J. from USA,trip to Ternopil, August 2011
---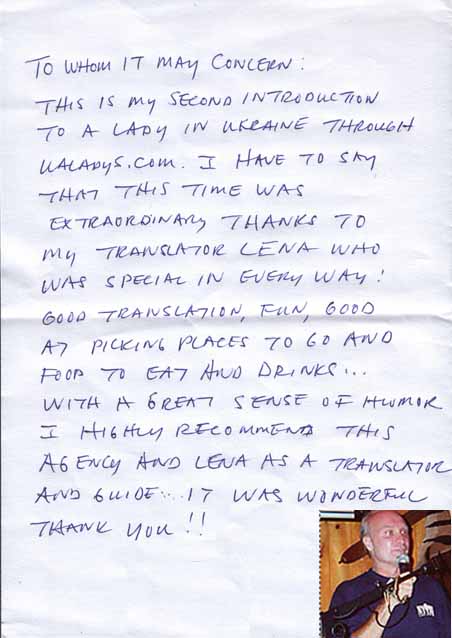 Jack H. from USA,trip to Zhitomir, August 2011
---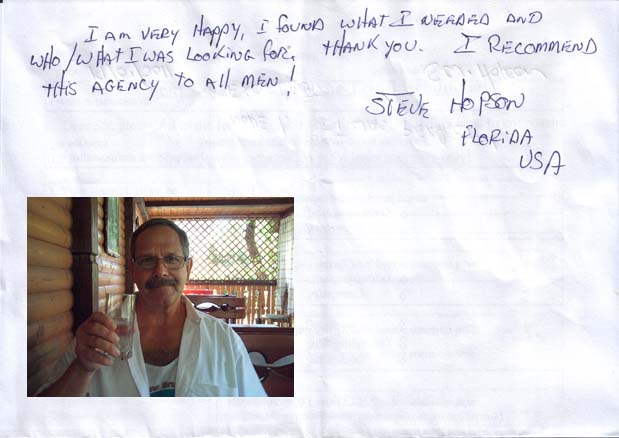 Steve H. from USA, trip to Zhitomir July 2011
---
Jim A. from USA, trip to Zhitomir, July 2011
---
Tony S. from UK, trip to Zhitomir in June, 2011
---
It will be an experience that I will never forget. The agency staff were very helpful and accomodating but the jewel in the crown is the wonderful lady with whom I spent such a wonderful time. I hope that this is the beginning of a long and loving relationship with a very special lady. Thank you Natasha for your kindness and your help. I hope that some day we will meet again. Again thank you.
Peter B.
---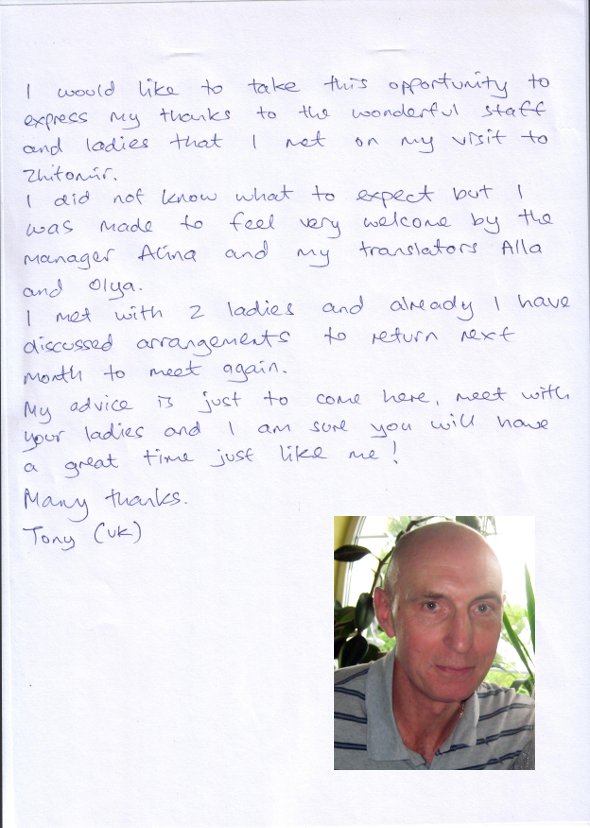 Tony S. from UK, trip to Zhitomir in June, 2011
---
I want to be thankful for served by the Agency in my visit in the month of May to Kharkov and although I did not have the luck to find the girl whom it looked for I was pleasingly surprised by the amiability and professionalism of the personnel of the Agency and especially of the translator, Ms Natalia, that behaved at any moment of admirable way. Natalia thanks
Fernando G., trip to Kharkov in May, 2011
---
My Great Salutations To The Best Agency,
I had just arrived today from my trip to Nikolaev, I can't describe my trip, It was wonderful & fantastic,I had found all means of accomodation .

I enjoyed with each moment within my visit, whether the weather, shopping, the staff, traveling or country's people .

I felt that I'm in my homeland, country, It's nice and amazing city .

Thanks for all the agency's members, thanks for their help, they didn't hesitated to proviade me with any service at any time, they didn't leave me for a moment, what I need, I just request it , they made reservation for me in a beautiful hotel & nice resturants .

Actually, the agency's staff supported me throughout all my trip, they were very nice, friendly and helpful people, I could found my companion in my trip .

I had read more about the agency & its services before I went, but Iam surprized with everything, I appreciate their help, they acted well in all the different situations, everything was organized well, from my first day 30 May till 4 june, really, the agency deserves its good reputation .

Thanks for your kindness, the nice hospitality, great treatment during my residence in Nikolaev .

The agency's method encourages me to make very soon another visit within this year .

All the time, they gave me their suggestions, opinions, advices, and the accurate arrangments, they shared me my thoughts all time .

Very Thanks for the agency "Ualadys.com" .

Thanks for the driver that picked me up / to airport .

Thanks for the support center, and of course thanks for Miss.Julia, I can't deny all the helps that presented it to me & her solutions for all the problems that were faced me, while I was planning to travel to Ukraine, althought I was in my country, but she enabled me to obtain the Visa , also she made me feel comfortable all time .

Thanks very mucccccccccccch for the trip manager in Nikolaev branch "Victoriya Fomenko"

I'm very grateful for my interpreter "Oksana Tkachenko", she's very cheerful & professional, as well, his intelligence in her work, very very thanks for her, actually she did all her best in her work, she made many services for me, helped me in all matters, performed her work in best way, and she was with me all time .

I had heard about the first impression, but I didn't understand this meaning till I went to Ukraine, It had left good impression with me, and I intend to visit this country again very soon, and I'll encourage all my friends to make the same trip .

Although, I didn't acheive my target that I went for it, as I didn't find the qualities that I desire in my partner, but I'm not disappointed, and I hope the good for her in her future, but at any way, I'm optimisim with the agency, so I'll try again, and I'll repeat my experiment again .

I would like to express about my full respect & appreciation to the Ualadys agency with all its staff .

Thanks for all agency's staff .

I hope the permanent success & progress for the agency .

My Best Regards

Alaa
Mr. Alaa B., trip to Nikolaev, May-June, 2011
---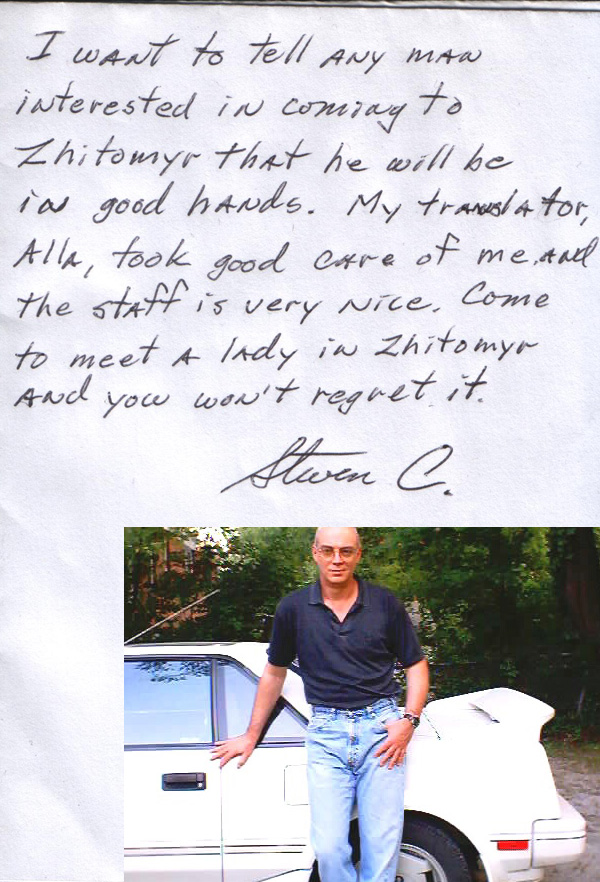 Steven C. from USA, trip to Zhitomir May 2011
---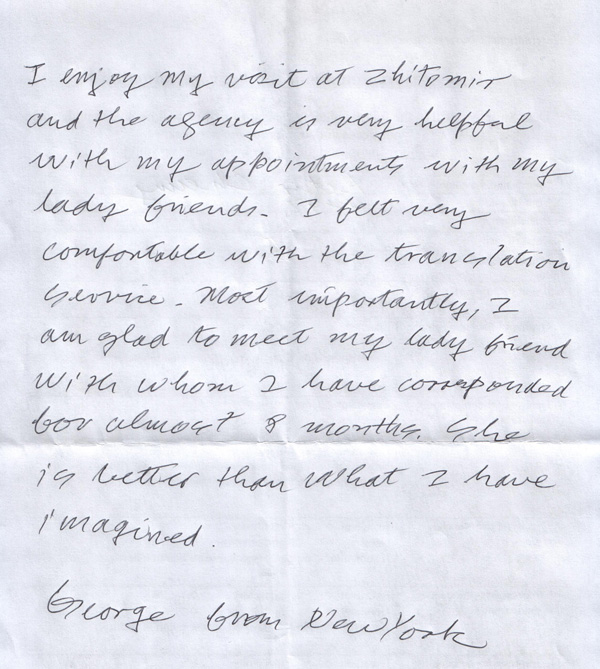 George from New York, May 2011, trip to Zhitomir
---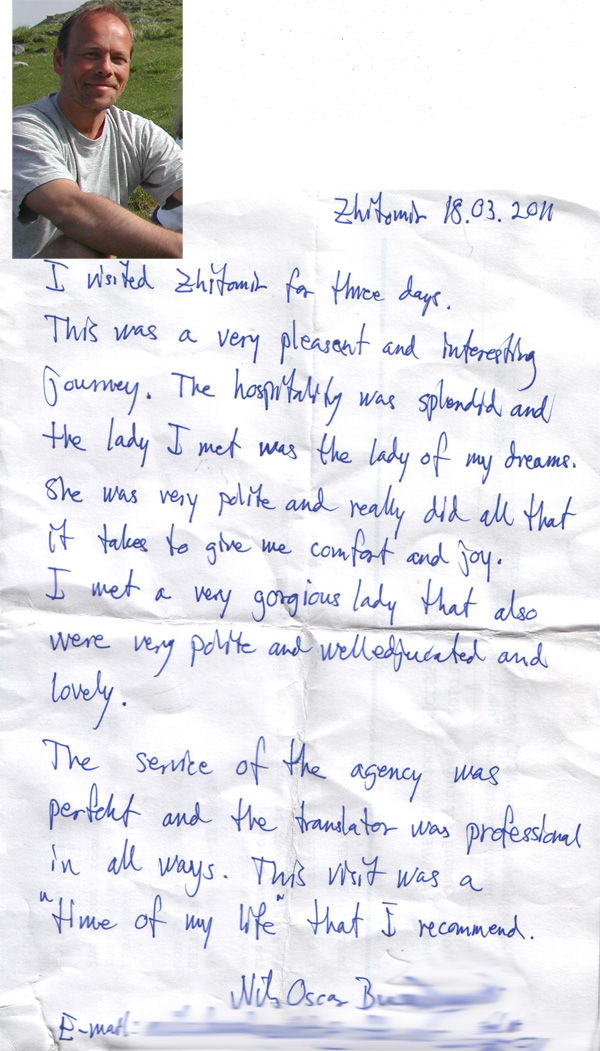 Nils B. from Norway, trip to Zhitomir, March 2011
---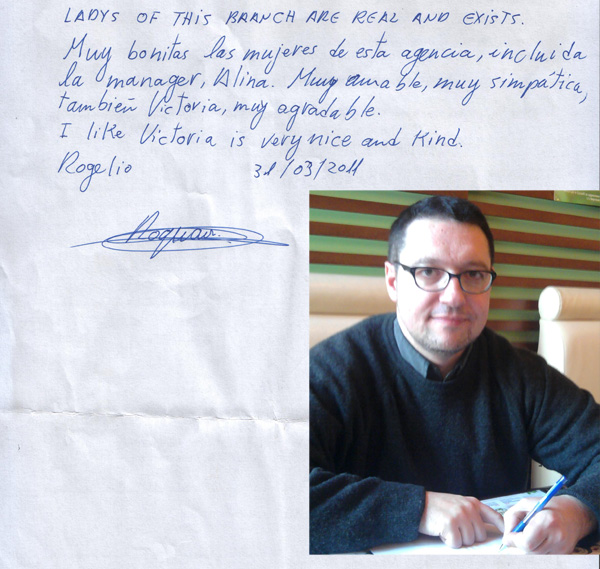 Roger M. from Spain, trip to Zhitomir, March 2011
---
Another update from the Amarillo-Kharkov connection: I just got back from the Ukraine on Dec. 23rd after spending more time with Vika. We both know it's a matter of time until we set that big date. This Christmas has been the best one of my life. Even if Vika would have said "no" to the "M question," I was able to visit a very special place that is dear to all Orthodox Christians, the Pachersk Lavra Kiev (Kiev Caves) Monastery. Had I not taken the chance on love I could never have realized a dream come true in my visit to the Lavra. Ever since I first heard the "Kolyadka Carol" on an album by the Monks' Choir of the Kiev Pachersk Lavra I have wanted to hear them sing in person. On the last day of my trip I made a special trip to the Monastery to have something blessed for a friend. I had to wait for the morning Liturgyto end to visit the priest. During the service that choir began to sing the "Kolyadka!" Imagine the joy in my spirit as my eyes filled with tears over the awesomeness of hearing that beautiful song live and in person! Plus, as a chanter in our small church here in Amarillo, I was especially honored when the Monk-Priest invited me to join him in the chapel to sing the 105th Psalm, an Orthodox standard. After a brief lesson in Cantoring, I was entreated to join the Saints by singing from the very same podium that has seen a millineum of worship. I have tears of joy as I am trying to write this now! Had it not been for that fateful first letter from Vika, that dream would still be just that...a dream! Find your favorite airline, book your flight, and get yourself to the Ukraine! Take a chance and enjoy the land, the culture and especially the PEOPLE! I can tell you it's less than $1000 to fly from Amarillo to Kiev, so save your coins and buy that trip ASAP. After all, why just imagine when you can live in happiness?
Mike Y
---
I just come back from my trip to Kharkov who is very nice town! and i want to tell a very big thanks to Kharkov agency who is very prfessionnal and a special and important THANKS to Natasha translator who is a very good professionnal and very nice personn who help me very well.With her help i saw many nice place of Kharkov,eat in very good reetaurant and of course in first i had meet a wonderfull lady and i have a lot of hopes for the future . i would recommend to my friends about your agency ! i found the love at Kharkov!
Gaetan M
---