Airline + Tickets + Visa's
---
Visa for you to enter Ukraine
You must possess a passport which does not expire within six months after departing Ukraine.

You must obtain a hotel reference number and letter which is issued for the number of days reserved at the hotel. , however, obtains this confirmed hotel reservation for its tour participants. It is now virtually impossible to obtain a visa for apartment or home stays. A hotel must stamp your visa in order for you to exit the country.
Individual visas are date specific, good for only the number of days prepaid at the hotel.
Ukraine has set visa free regime for citizens of US, Canada, Japan, European Union countries, Norway, Monaco, San Marino, Andorra, Iceland, Swiss Confederation and Liechtenstein. Visa free regime is established for the period of up to 90 days staying in the country. Also, You don't need confirmed hotel reservation!
Requirements For Foreign Citizens From Above Countries To Enter Ukraine
1. Passport must be valid 3 months beyond intended stay
2. Tickets and Documents for return or onward travel
3. Vaccination - None Required

Requrements For Foreign Citizens To Obtain Visa To Ukraine
1. Passport must have at least six months remaining validity
2. Application form fully completed and signed
3. Passport-type photograph
4. FOR TOURIST: Copy of hotel confirmation or letter of confirmation from tour operator with signature and company stamp
---
Airline and Tickets: We recommend Award Travel Austrian Airlines
After you contact the embassy and receive all the informations about your Visa's you must get plane tickets to Ukraine and fix the dates of your arrival with trip manager.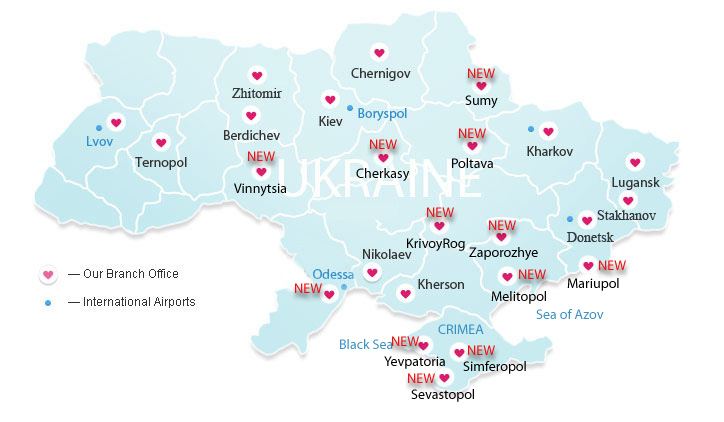 ---
The distance between Ukrainian branches
The biggest international airport of Ukraine is Borispol Airport located in the capital of Ukraine - the city of Kiev. There are numerous international flights there from/to many cities of the world.
Our three branches: Kharkov, Ilyichevsk and Kiev have international airports. Kharkov and Odessa(Ilyichevsk branch) airport work with Austrian Airlines that have a very convenient and comfortable flight from Vienna, see http://www.aua.com/at/eng

Some branches possess a local airport where you can catch a plane to/from Kiev every day.
Our other branches have a railway station (Zhitomir, Nikolaev, Chernigov); you may get there by train from Kiev, Kharkov(see our map above) or you may order a car transportation. This service is offered in case you purchase a trip package, please see our Trips and Tour prices

If you need additional information about local Ukrainian itineraries, please, feel free to ask our trip manager

The distance in kilometers (approximate) around Ukrainian branches.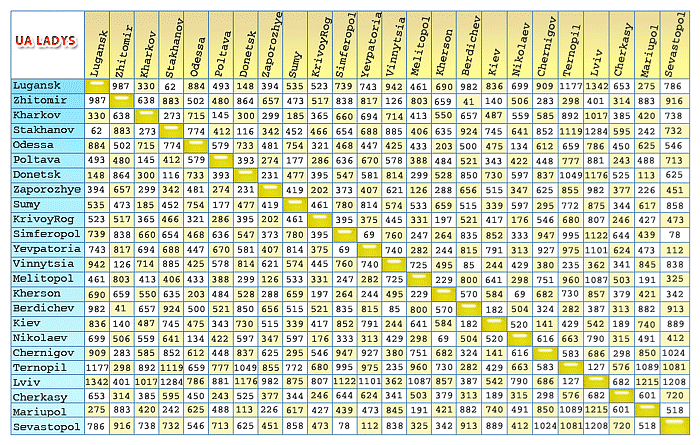 ---
Weather in Ukraine right now