Our branch in Nikolaev
---
The city of Nikolaev was founded more that 200 years ago by the order of the earl Potiomkin, Occasional godsends during the construction works tell us about the existence of the highly-developed Greek, Skiphian, Sarmat civilizations, which blossomed here long time ago. In summer 1788 in the estuary of Bug and Ingul a town and first shipbuilding dockyard were founded. The order to be called the city of Nikolaev was received from Queen Ekaterina II on the 7th of September 1789. The town was being built uniting earlier buildings. The warm and bright town near the sea in the embrace of two large rivers played an important role in the forming of Russia as a maritime state.
The highest part of the South Bug river is named "Ukrainian Switzerland" because of a beautiful landscape with fast rivers, thresholds and covered rocks as in kazak's legends. The well known artist V.V. Vereshagin lived and worked in Nikolaev.

Presently a lot of the artist's famous paintings are kept here in Nikolaev in a museum that bears his name. In an observatory constructed in 1821 is a unique collection of devices for the observation of celestial bodies. Having come to visit us, you will acquaint yourself with a land rich in history and culture which still keeps some secrets. We invite you to come and visit us.
Search ladies from the Nikolaev
History
On Nikolaev territory different peoples have built temples long ago. One of the old sanctuaries found by archeologists is situated in New Odessa (45 km to the north from Nikolaev). The altar refers to the copper age 4-3 centuries B.C. There were also documents saved a lot of temples, built by Cossacks in the times of Zaporozhska Sech. In 1800 in the centre of Nikolaev was build a Cathedral of the Birth of the Virgin. In 1817 not far from it a St. Nikolsky Cathedral has been built.
Since 1807 a divine service has been held in the Church of All the Saints on the town cemetery, built with the help of many citizens. In 1857 a church of the Saint spirit has been built, in 1886 at the naval hospital a Church of the Saint Alexander Nevsky has been founded.
Since the end of XVII ? the beginning of XX centuries almost all king persons of Russia have visited Nikolaev. And even today on the Nikolaev territory live and work about 110 nationalities of peoples from all over the world. Maybe it is the reason of the world-wide beauty of the Southern and Nikolaev women?
Climate
The South of Ukraine has a mild continental climate. All the seasons of the year in Nikolaev are attractive in their unique way. Winters are snowy and cold. The coldest temperature is in February. It gets about 15 degrees below zero. But frosty days are usually sunny. That is why you will feel comfortable walking in the snowy park and enjoying the sunlight?
Spring is absolutely gorgeous. Everything is blossoming starting from April and till late May. The temperature is 15-25 degrees above zero.
The hottest season of the year is summer. Many tourists come to the Southern Ukraine for their holidays and vacations. The Black Sea is not far from the city. It is not a problem to go to the sea side for the weekend or a day off. The average temperature in Nikolaev in the summer is about 30 degrees above zero.
Fall in Nikolaev is divided into two parts: the first part is a real "Indian summer" and the second one is less attractive because of the rains. Nature disasters like earthquakes, tornados or floods never occur in Nikolaev because of a good location of the city.
a New Era
In Nikolaev you can see very clearly how the city is taking full advantage of the tremendous and unique opportunities arising from the emergence of free market and the development of democracy. The investment boom is visible everywhere you look. The city has become one big construction and renovation site. The commercial buildings commissioned in the recent years accommodate hundreds of business, banks and international organizations. Scores of new ones are going up in Nikolaev, and the demand for high-class office space is still enormous. Each year sees the opening of new hypermarkets and shopping centers. Yet it is the city's people who are its real asset.
Nikolaev people have always been known for their hospitality and friendliness. Many young people in Nikolaev speak English because it opens for them the doors to a new and big world. It is never a problem to ask for help or direction on the street if need be.
Nikolaev Ladies are famous for the warmth and good nature? not only they are physically attractive, but also intelligent, charming and very family-oriented. They are fond of arts and reading. Southern blood makes them passionate!!! You will never feel bored in a company of a beautiful and humorous Nikolaev lady?
We are pleased to invite you to Nikolaev that is also attractive in cultural and tourist terms. A number of well-known cultural events of international importance are held here. The extensive repertoire of scores of theatres, numerous concert halls and cinemas will satisfy even the most exacting audience. Night clubs, bars, discos and casinos are open to please their visitors. Two years ago a big skate-ring was open. Gyms equipped with spa, massage rooms and bars are waiting for those who like to keep their body fit and healthy.
We would like to invite you to Nikolaev of numerous historic buildings, museums and art galleries. They remind of the past of the city and speak of its present and future. The most famous are Vereschagin Art Museum, Museum of Shipbuilding and Fleet, Museum of Local Studies and Art Exhibition Hall. All of them are located in the center of the city. They are very close to a picturesque river bank famous among Nikolaev guests. There you will find a park with a fountain, caf?s and numerous benches. You will immediately fall in love with its romantic atmosphere.
Nikolaev is famous for its Zoo located not far from the Central Bus Station. It is the biggest zoo in Ukraine. Nikolaev Zoo has Polar bears, wild tropical animals, an amazing collection of snakes, fish and many other species of animals, birds and even rare plants, which grow on its territory. A day spent in Nikolaev Zoo is unforgettable!
Nikolaev is a very green city. Its unique beauty is blooming in spring and summer. There are many parks and green spots all around the city. In winter all this beauty is supplemented with white fluffy snow?
Apartments of Nikolaev
Nikolaev welcomes tourists, business men and visitors. There are many hotels and apartments for rent in the city. If you choose to stay in a private apartment you will find it equipped with all the necessary appliances. There is a wide choice of apartments with Internet connection, satellite TV, air conditioning, Jacuzzi, washing machine, etc. Many apartments are available for rent right in the center of the city, very close to the main traffic free street. This area has many shops, restaurants and places of interest. It is absolutely safe and pleasant to stay.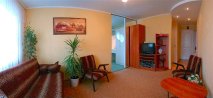 See Apartments of Nikolaev
Transportation
Nikolaev is not a large city though it is located on the both sides of the river. Transport works 24/7 in all the areas of the city. Public transport includes trolleybuses, trams and fixed-run taxies. But the best service is provided by private taxies. They are fast, reliable and their cost a reasonable.
You can also hire a taxi for traveling to another city. To book a taxi in advance is always preferable. Usually you pay when you arrive to the place of destination.
As an option for traveling to another city you can choose a train. Trains run on a regular basis and you can easily find a schedule at the train station. Prices for services, accommodation, transportation and shopping in Nikolaev are not high compared to European ones.
Currency and cash
There are hundreds of ATMs and State Currency Exchange Places in Nikolaev. You can use VISA, MAESTRO, SWITCH or MASTER cards to withdraw money from ATM or at the bank. The most popular foreign currencies are US dollar and Euro. British pound can be exchanged at some banks.
The Ukrainian National currency is Hrivna. 1 dollar is approximately 5 hrivnas. 1 euro is approximately 7.5 hrivnas. 1 British pound is approximately 9 hrivnas.
You can exchange currency of other countries at different banks of the city.
There are many restaurants and shops in Nikolaev which accept payment by credit cards listed above.